Chaithra Kundapura cheating Case: Car, cash and properties worth Rs.3 crore confiscated
Mangalore Today News Network
Udupi, September 17, 2023: The ongoing investigation by the CCB police into the Chaitra Kundapur and her associates' cheating case has taken significant strides. The investigative team carried out inspections at various locations, unearthing crucial evidence.

In a significant development, the police successfully seized a KIA car in Mudhol, located in the Bagalkot district. This vehicle had been purchased with the ill-gotten Rs 5 crore that Chaitra Kundapura and her accomplices had taken from entrepreneur Govinda Babu Poojary of Udupi district. The promise made to Poojary involved securing him an MLA ticket in the recently concluded assembly elections. Alongside the vehicle, law enforcement officers also confiscated gold ornaments and funds that were stashed away in a bank.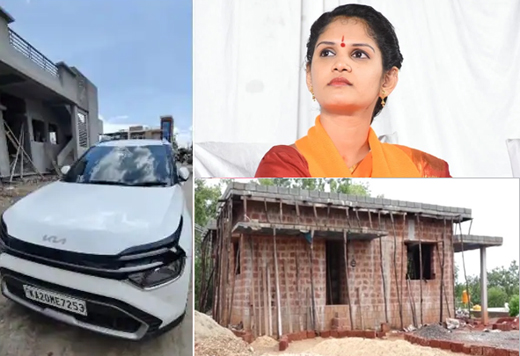 The vehicle in question was registered in Chaitra Kundapura's name and was being used by Kiran, a close associate of Chaitra. Kiran had transported the car from Solapur to Mudhol. Incidentally, Kiran operated a car driving school. Both Kiran and the car have been apprehended by the police.

Furthermore, the police have seized properties valued at Rs 3 crore that were owned by Chaitra, including fixed deposits totaling Rs 1.8 crore held in the names of Chaitra and Srikanth. Additionally, they retrieved Rs 40 lakh from a local society where Chaithra's brother-in-law served as the manager. Chaithra had concealed around Rs 65 lakh worth of gold ornaments in her residence, which have now been taken into police custody.

In a separate development, the police uncovered Rs 45 lakh at the residence of Srikanth, another close associate of Chaitra. Notably, Halashree Swamiji, the third accused in the case, had already returned Rs 50 lakh to entrepreneur Govinda Poojary.

Furthermore, there is evidence suggesting that Chaitra had invested in real estate using the embezzled funds. Authorities have captured video footage of these transactions and have subsequently seized the properties on behalf of the government.

Chaitra and her associates are accused of dividing Rs 5 crore among themselves, money obtained under the pretext of securing a BJP ticket for Govinda Poojary to contest in the Byndoor constituency.
Write Comment
|

E-Mail
|

Facebook
|
Twitter
|

Print