World Cup: Mohammed Shami thanks PM Narendra Modi for raising spirits in dressing room after loss
mangaloretoday.com
New Delhi, Nov 20, 2023: Mohammed Shami has thanked Prime Minister Narendra Modi for his warm gesture of coming to the dressing room and raising the spirits of the team after the World Cup final loss to Australia.

In the final of the Cricket World Cup 2023, India faced a crushing defeat at the hands of Australia, ending their dream run in a tournament where they had been undefeated until that point.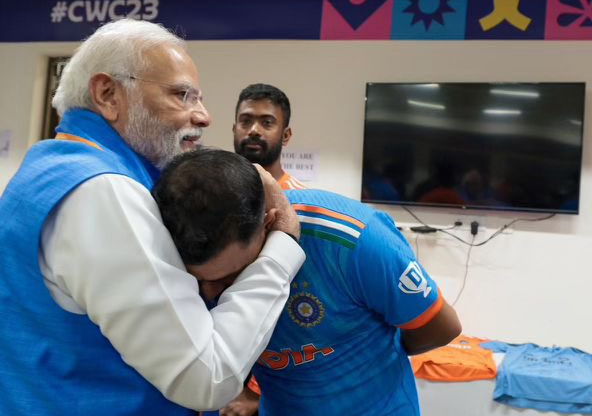 The Rohit Sharma-led Indian team had an impressive streak, winning 10 consecutive matches, including a semi-final victory over New Zealand. However, their only loss came at the most crucial juncture, the final, against a dominant Australian side.

The match took place at the Narendra Modi Stadium in Ahmedabad, which was packed with about 100,000 fans, all eager to witness India's crowning as world champions on home soil. The event was not just a cricket match but a spectacle, featuring an air show by Indian military planes, performances by Bollywood stars, and a dazzling light display accompanied by fireworks. The highlight for many was the anticipated appearance of Prime Minister Narendra Modi at the stadium named after him.

Despite the high expectations and the grandeur of the occasion, the Indian team fell short. Australia won the match by 6 wickets, with 42 balls remaining, marking their sixth World Cup win. This outcome was a bitter pill to swallow for the Indian fans and the nation as a whole, which had seen this event as a symbol of India's global rise both on and off the field.

After the match, it was revealed by Ravindra Jadeja that Prime Minister Modi visited the Indian team's dressing room. His presence was intended to lift the spirits of the players after their heartbreaking loss. The Prime Minister's gesture was seen as an effort to console the team and acknowledge their hard-fought journey throughout the tournament, despite the disappointing end.

Shami has now thanked the Prime Minister for coming to the dressing room and raising the spirits of the team after the loss on Sunday.

"Unfortunately yesterday was not our day. I would like to thank all Indians for supporting our team and me throughout the tournament. Thankful to PM @narendramodi for specially coming to the dressing room and raising our spirits. We will bounce back!" said Shami.

Courtesy: India Today