Meeting between farmers' leaders, govt inconclusive; next round on Dec 3
Mangalore Today News Network
New Delhi, Dec 01, 2020: The meeting between leaders of farmers agitating against the farm laws and the government on Tuesday remained inconclusive and another round of talks is going to be held on Thursday, news agency ANI reported. Union agriculture minister Narendra Singh Tomar said that the meeting was good and that a decision has been taken to hold the talks on Thursday.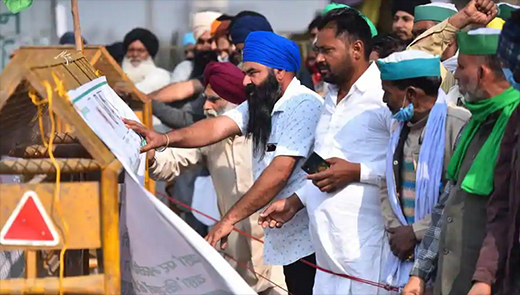 "We wanted a small group to be constituted but farmers' leaders wanted that the talks should be held with everyone. We do not have problem with it," Union agriculture minister Narendra Singh Tomar was quoted as saying by ANI. "We appeal to the farmers to suspend the protests and come for the talks. However, this decision depends on farmers' unions and farmers," Tomar added.

The Centre, during the course of the meeting, sough the names of four to five people from the farmers' organisations and constitute a committee, which was to include representatives from the government as well as agricultural experts to discuss new agricultural laws.

After the meeting held at Delhi's Vigyan Bhawan, a member of the farmers' delegation said that their movement against the three farm Laws will continue. "We will definitely take back something from the government, be it bullets or a peaceful solution. We will come back for more discussions with them," Chanda Singh said according to ANI.
Courtesy:Hindustan Times