MP shocker: 12-Year-old girl raped, left bleeding and semi-naked; denied help by locals
Mangalore Today News Network
Bhopal, Sep 27, 2023: In a deeply distressing incident in Ujjain, a 12-year-old girl, visibly injured and partially unclothed due to an alleged sexual assault, was shooed away by locals for seeking help in Madhya Pradesh recently. Shockingly, bystanders stared but callously turned her away, with one man callously shooing her as she desperately sought help after being allegedly raped. This heart-wrenching scene was captured by a CCTV camera on Badnagar road, situated approximately 15 km from Ujjain in Madhya Pradesh.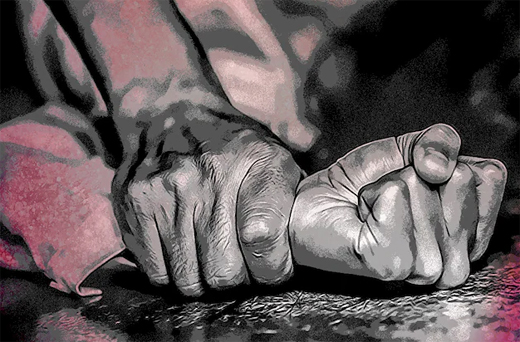 Due to the severity of her injuries, the girl was swiftly transferred to Indore. The police personnel stepped forward to donate blood when needed, stabilizing her condition. During a debriefing with a senior police officer, the young victim struggled to provide coherent details about her identity and residence.

The police promptly filed a case of assault against unidentified culprits and invoked the stringent Protection of Children from Sexual Offences (POCSO) Act. Sachin Sharma, the police chief of Ujjain, announced the formation of a Special Investigation Team (SIT) to expedite the identification and apprehension of the perpetrators. He urged the public to inform the authorities if they possess any relevant information.

When questioned about the exact crime location, the officer mentioned an ongoing investigation, promising to provide more details soon. Furthermore, he added, "The girl was unable to pinpoint her exact location, but her accent hints at her origins being Prayagraj in Uttar Pradesh."

This distressing incident has once again brought to spotlight the alarming frequency of violence against women in Madhya Pradesh. Former MP CM and state Congress chief Kamal Nath has strongly condemned the Shivraj Singh Chouhan government after the video went viral on social media. Nath also demanded Rs 1 crore compensation for the victim, along with proper medical treatment.

Regrettably, both Madhya Pradesh and Maharashtra reported the highest number of cases of women and girls disappearing between 2019 and 2021. Moreover, Madhya Pradesh recorded the highest incidence of rapes in the country in 2021, with a staggering 6,462 cases according to the National Crime Records Bureau. More than half of these cases targeted minors, revealing an appalling statistic of 18 rapes occurring daily.
Courtesy: Zee News