Kerala Transgender couple, Ziya and Zahad, blessed with baby: See pic
Mangalore Today News Network / NDTV
Kozhikode, Feb 08, 2023: A transgender couple from Kerala's Kozhikode, Ziya Paval and Zahad, whose pregnancy photos recently went viral, has been blessed with a baby. The baby was reportedly born through a cesarean section at the Kozhikode Medical College Hospital on Wednesday morning. Ziya Paval, one of the trans partners said both the baby and Zahad are healthy. However, the couple has chosen to not reveal the gender identity of the newborn for now.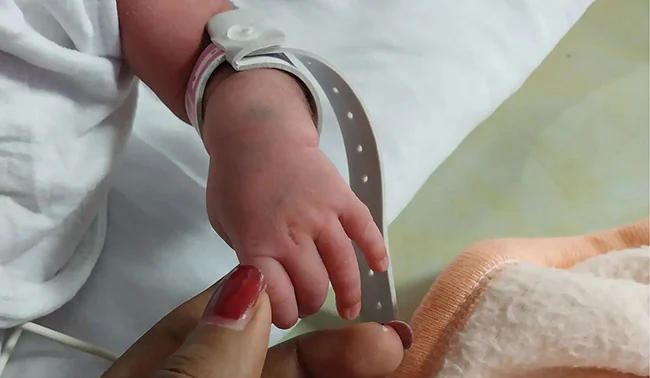 Ziya Paval also shared the happy news on Instagram through a photo which shows the newborn baby's tiny hands.
The photo was captioned, ''Mashallah. In the wait of the times, today (08/02/2023) Wednesday morning at 09:37 with the sound of our dreams, weighing 2.920kg, the breathing on the earth and the light in the eyes that never bloomed....... Tears of joy rolled down into tears..... Safe in the arms of the angels with no other complications. Many people who were held with prayers may be as a result of that...... Thanks and gratitude beyond words to all those who stood by me.''

The couple, who has been living together for the last three years, had recently announced the news of the pregnancy through a photoshoot on Instagram. In the post, Ziya Paval announced that Zahad was eight months pregnant.

"Though I was not a woman by birth or by my body, I had the feminine dream inside me to hear a baby calling me 'mother'....It has been three years since we are together. Like my dream of becoming a mother, he (Zahad) has a dream of becoming a father and today a life of eight months is moving in his belly with his full consent," Ziya wrote in the caption of the post.

While Ziya was born a man and changed into a woman, Zahad was born a woman and transformed into a man.

The couple were in the process of gender transition when they decided to have a baby. Zahad conceived the baby from Ziya as his transition process from a woman into a man was stalled for the baby and his uterus and some other organs were not removed.