Drunk man misbehaves with crew member on Jaipur-Bengaluru IndiGo flight; detained
mangaloretoday.com/news18
Bengaluru, Nov 20, 2023: An inebriated passenger misbehaved with a crew despite multiple warnings on a Jaipur to Bengaluru IndiGo flight.

A press statement from the airlines said that the passenger was handed over to the local law enforcement authorities on arrival for further action. "We regret the inconvenience caused to the other passengers," the statement read.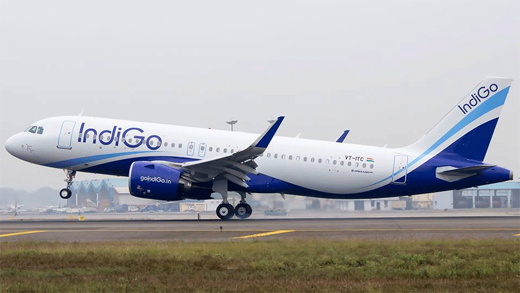 The accused, a 33-year-old Randheer Singh, was detained after he repeatedly held an air hostess' hand even after being warned not to.

According to a Times Now report, Singh — belonging to Rajasthan's Sikar — seated on 27(D) of the IndiGo flight 6E556, appeared to be intoxicated.

Singh's fellow passengers noticed his inappropriate behaviour and quickly alerted the flight crew. Taking cognizance of the situation's seriousness, the captain of the flight termed Singh to be an 'indisciplined passenger'.

Reportedly, cabin crew filed a complaint against the accused right after landing at the Bengaluru airport. Airline's official Varun Kumar reported the incident to the airport police, leading to the 33-year-old's arrest on Sunday.

Singh has been booked under Indian Penal Code (IPC) Section 354A and further investigation is underway.

Earlier this month, a 52-year-old man was arrested for allegedly sexually harassing a 36-year-old female passenger aboard a Frankfurt-Bengaluru Lufthansa flight, police said on Wednesday.

The incident allegedly took place on November 6 when the woman was inappropriately touched by the elderly man when she was asleep.

The man — seated next to her — allegedly touched her private parts and misbehaved with her while she was asleep. When he continued harassing her, the woman requested the flight attendant and got her seat changed.

After landing in Bengaluru, the woman filed a complaint against the man at Kempegowda International Airport Police Station.

The man was arrested and produced before the court. He was, however, later released on bail.

In a similar incident in September, a man onboard a Mumbai-Guwahati IndiGo flight was handed over to the Guwahati police on arrival after a complaint was received against him from another passenger for alleged sexual harassment.

A woman had accused that the man lifted the armrest and groped her while the cabin lights were dimmed on the late-night flight.

Following the incident, the airline said that a First Information Report (FIR) was registered against the man and he was handed over to the police in Guwahati.