BJP bags landslide victory in Tripura civic polls, wins all 14 urban bodies
www.mangaloretoday.com
Agartala, Nov 28, 2021: BJP has bagged a landslide victory in Tripura civic polls, winning all 14 urban bodies which went to polls on November 15. It made a clean sweep in 11 urban bodies, including Agartala Municipal Corporation.

Out of the 222 seats across 14 urban bodies that went to polls, BJP emerged victorious in 217.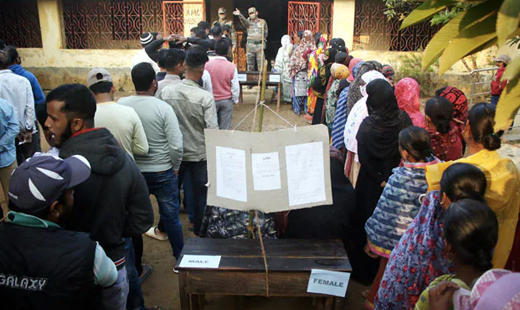 CPI(M), which won in all the urban bodies in last civic body polls, has won in three seats across three urban bodies—Kailashahar and Ambassa Municipal Councils and Panisagar Nagar panchayat. Trinamool Congress, which has bagged the second highest number of votes after BJP in the Agartala Municipal Corporation (AMC), has won a single seat at Ambassa Nagar panchayat while Tripura royal scion Pradyot Kishore-led TIPRA Motha has won one seat.

Polls were held for 14 of 20 urban local bodies in the state on November 25. Of the total 324 municipal seats in the state, the BJP won 112 seats uncontested. The remaining 222 seats registered a healthy 81.54 per cent voter turnout.

With this, Agartala Municipal Corporation is without an Opposition for the first time.

Chief Minister Biplab Kumar Deb said this was a "historic" victory and the people of Tripura have given a "sothik jobaab" (apt answer) by casting votes which ensured that BJP won 98.50 per cent of the seats.

"Those who tried to malign Tripura should see…people from majority and minority communities together voted in favour of development under Narendra Modiji," Deb said. Without naming Trinamool Congress, Deb said that the poll mandate was a reply to those who tried to "insult Tripura" and "demean it by conspiracies".

Speaking to reporters after the results were announced, Tripura ICA minister Sushanta Chowdhury said people voted against "conspiracies hatched by Trinamool Congress and CPI(M)" that were trying to "disturb the peace and tranquillity of the state".

"There were many conspiracies hatched by CPI(M) and TMC. With this mandate the people have proved that even though Tripura is a small state, dignity is something we hold dear," he said.

He asked all victorious councillors and corporators of his party to work closely with people and garner public support for the party ahead of the Assembly polls. Chowdhury also warned his party workers against indulging in "overenthusiasm" and said celebrating their victory should not be a "cause for sadness" for others.

Thanking voters for their support, Bengal Trinamool Congress general secretary Kunal Ghosh tweeted, "Tripura: @abhishekaitc's so-called' silent revolution 'is working. Two months of organization @AITCofficial.."

He claimed that TMC got "+/20% votes" despite the "attacks and lawsuits" on their party in the state. "The BJP would not have existed if there had been free and fair voting. We are excited. People are responding. Thanks. The next work begins. 2023 will be for us," he tweeted in Bengali.