After 'chai', now a NaMo fish stall in Chennai
mangaloretoday.com / NDTV
Chennai, Feb 25: In a break from NaMo tea stalls in many states, Narendra Modi's name will now sell fish in Chennai. The BJP today launched the new initiative to market its prime ministerial candidate ahead of the national election, due by May.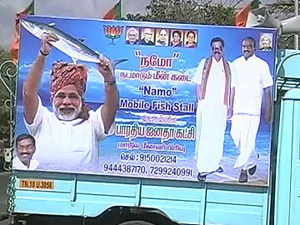 BJP leader L Ganesan inaugurated the mobile NaMo fish stall at the city's Marina beach. It operates from a van displaying, what seems to be a morphed image of Mr Modi holding up a fish, and promises to sell at competitive prices.

"This shows we care about the fishing community, we are not just trying to get their support for the polls," BJP's Tamilisai Soundararajan told NDTV.

Tamil Nadu's fishing community comprises some 10 lakh people who can influence the electoral outcome in six Lok Sabha constituencies.

But if the NaMo stall was an overture towards the fishing community, then it seems to have backfired in some quarters.

A few hundred metres from the NaMo stall, fishermen are worried about undercutting of prices.

"If they decide to sell at cheap prices, what about our livelihood?" asked Lingam, a fisherman.

Recently, senior BJP leader Sushma Swaraj had led a protest against the Sri Lankan Navy's attacks on Indian fishermen from Tamil Nadu on charges of trespass.

At a meeting in Pamban near the holy Rameswaram town, Ms Swaraj asked the fishing community to vote for Mr Modi, citing a fisherman he had nominated to the Rajya Sabha from his state Gujarat.

In the past, the BJP has won in Lok Sabha and assembly polls in alliance with either of the Dravidian rivals, DMK and AIADMK.

This time, the party is banking on what it perceives as a wave in favour of Mr Modi, and wants to lead a front. It's yet to forge any ties with the actor Vijaykanth's DMDK or the PMK.