Eyes Open International (EOI) President Harold D'Souza met Dr. Austin Prabhu in Chicago
Mangalore Today News Network
Chicago, Jan 01, 2022: Simple living high thinking is the philosophy of Dr. Austin Prabhu editor of Veez Konkani published in four scripts.

Eyes Open International (EOI) President Harold D'Souza met Dr. Austin Prabhu in Chicago on December 27, 2021, exploring solutions to empower vulnerable population globally. EOI is focused on prevention, education, protection, and empowerment of victims, survivors, vulnerable population, and community members from labour and sex trafficking.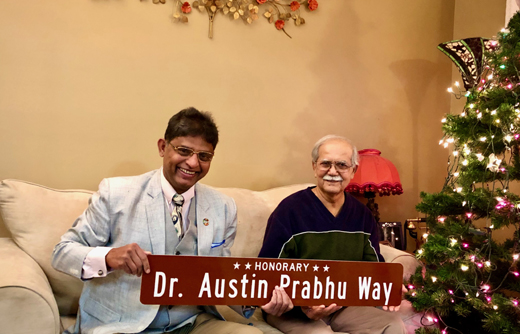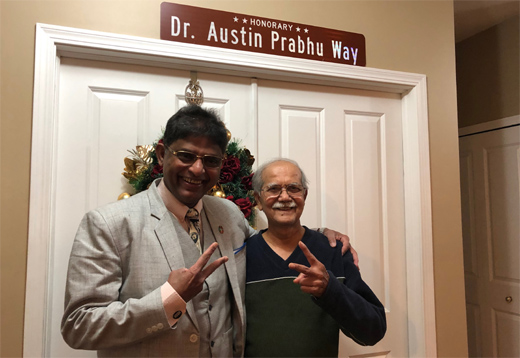 Dr. Austin Prabhu shared; "It was a surprise wedding, I had to say 'YES' in six to seven hours. I got married to my wife in Mangaluru within 5 days. We call it an 'Express Wedding'. It took me nine months after my wedding to reach the United States of America. I have completed 40 years and 3 months in America".

In 1984 Dr. Austin Prabhu accomplished his Ph.D. in Business at Chicago. The best and most beautiful achievement of Dr. Austin Prabhu is an incredible memorial street in Illinois named; "Dr. Austin Prabhu Way" for his humanitarian deeds dedicated towards the betterment of community members. This street name "Dr. Austin Prabhu Way" prevails in Forest Park, Illinois.

Harold D'Souza said; Awesome Dr. Austin Prabhu is an inspiration not only to me but a living role model worldwide for his happy, humble, honest, and good human nature filled with gratitude.

Dr. Austin Prabhu has been the Governor for two times at Lions Club, District 1A, Mother District of Lionism. Dr. Austin Prabhu is the only delegate to be appointed Governor for two terms. His wife was nominated as a Governor for Lions Club. They were the first couple to be appointed as Governor of Lions Club.

Veez Konkani Magazine was started by editor Dr. Austin Prabhu in 2017 first in Konkani script. Today it is published in four scripts weekly with 120 pages, easy to read.

Dr. Austin Prabhu's message to the world is; My saying is, there is nothing impossible in this world, as a human being you also have the right to do something, always keep busy, set a goal in your mind, and keep going because nothing is impossible. Sometimes you may think it is impossible, maybe it is not possible for yourself to do it, get your friends, build a team and that was my goal. My success was based on those goals, nothing is impossible.

Harold D'Souza shared, he believes in I.M. Possible not impossible. Dr. Austin Prabhu cheerfully said, we are in the same boat, nothing is impossible.