Lockdown extended till May 3. Easing restrictions only after April 20
Mangalore Today News Network
New Delhi, Apr 14, 2020: Prime Minister Narendra Modi, in his address to the nation on Tuesday, extended India's lockdown till May 3 to curb the spread of the deadly coronavirus pandemic in the country. The PM said a detailed plan for the second edition of the lockdown will be released tomorrow, on Wednesday.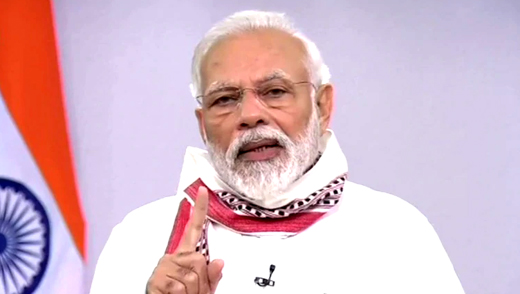 Tamil Nadu, Maharashtra, Odisha, Punjab, Telangana had earlier already extended the lockdown till April 30 to check the spread of COVID-19, Yahoo reported.

Check out PM Modi's address to the nation here:

The Prime Minister thanked the people for following the lockdown and says the sacrifices made by Indians in the last 21 days like disciplined soldiers has helped control the spread of coronavirus in India. He says that India made timely interventions and this has prevented a situation prevalent in many developed countries.

The day coincides with the 130 birth anniversary of renaissance leader BR Ambedkar, with many leaders expecting the prime minister to speak on the occasion, besides the Centre's plan to battle the deadly Covid-19. There have been indications that the shutdown could be extended till April-end with certain relaxations to boost economic activities.

HIGHLIGHTS OF PM's ADDRESS

"The virus is spreading fast. I held multiple meetings with chief ministers, authorities to find out ways to control the spread with minimum effect on the growth of India. Keeping in mind the suggestions and the risks, lockdown in India will be extended till May 3. We need to stop the spread of the virus."

"The battle against coronavirus in India is going on strongly. It is because of your cooperation that we have been able to deal with this pandemic successfully. Despite the sufferings, you are engaged in this fight."

"This is a festive season in India. Despite this, Indians are following lockdown. This is very inspiring," PM Modi said. "I respectfully bow to the people of India for their sacrifice," he adds.

"I am praying for everyone's good health. When there were 500 cases in India, we decided to go for a three-week lockdown. India did not wait for the problem to grow. We instead looked for solutions."

"For welfare of the country, you are involved in this fight like a dedicated soldier. I would like to thank you. In our Constitution, a line reads 'We the People'. This is what it signifies. This is a befitting tribute to Dr. Ambedkar."

"We cannot let our guard lower now. The hotspots need to stay alert and the places which are emerging as new hotspots need to be closely monitored as well."

"Till April 20, we will monitor how well the districts are doing. In places where the situation is improving, few relaxations will be made."

"We will issue a detailed guideline tomorrow. We are making attempts so that farmers, poor people are least affected. If we will have patience, we will defeat the coronavirus."

Seven things the PM wants citizens to do:

1.Take care of old people, senior citizens

2. Use home-made masks sincerely

3. Download Aarogya Setu App and ask others to download too.

4. Take care of poor people, their food needs etc

5. Don't snatch anybody's job

6. Respect people who are helping us in this tough time like healthcare workers, sanitation workers, Police etc.

7. With all dedication, follow the lockdown till May 3. Stay wherever you are and be safe.
Write Comment
|

E-Mail
|

Facebook
|
Twitter
|

Print