Huttoora Sanmana for CA N Ramananda Prabhu who conferred 'Kannada Rajyotsava Award-2021'
Mangalore Today News Network
Byndoor, May 26, 2022: Huttoora Sanmana program for CA N Ramananda Prabhu, who has been conferred "Kannada Rajyostava Award-2021, Udupi District for his voluntary contributions towards various community services and incredible social services in Sultanate of Oman and Udupi, Karnataka, India, was organized by Sri Venkataramana Seva Samithi Naikanakatte and GSB Community Bandhavas and well-wishers recently.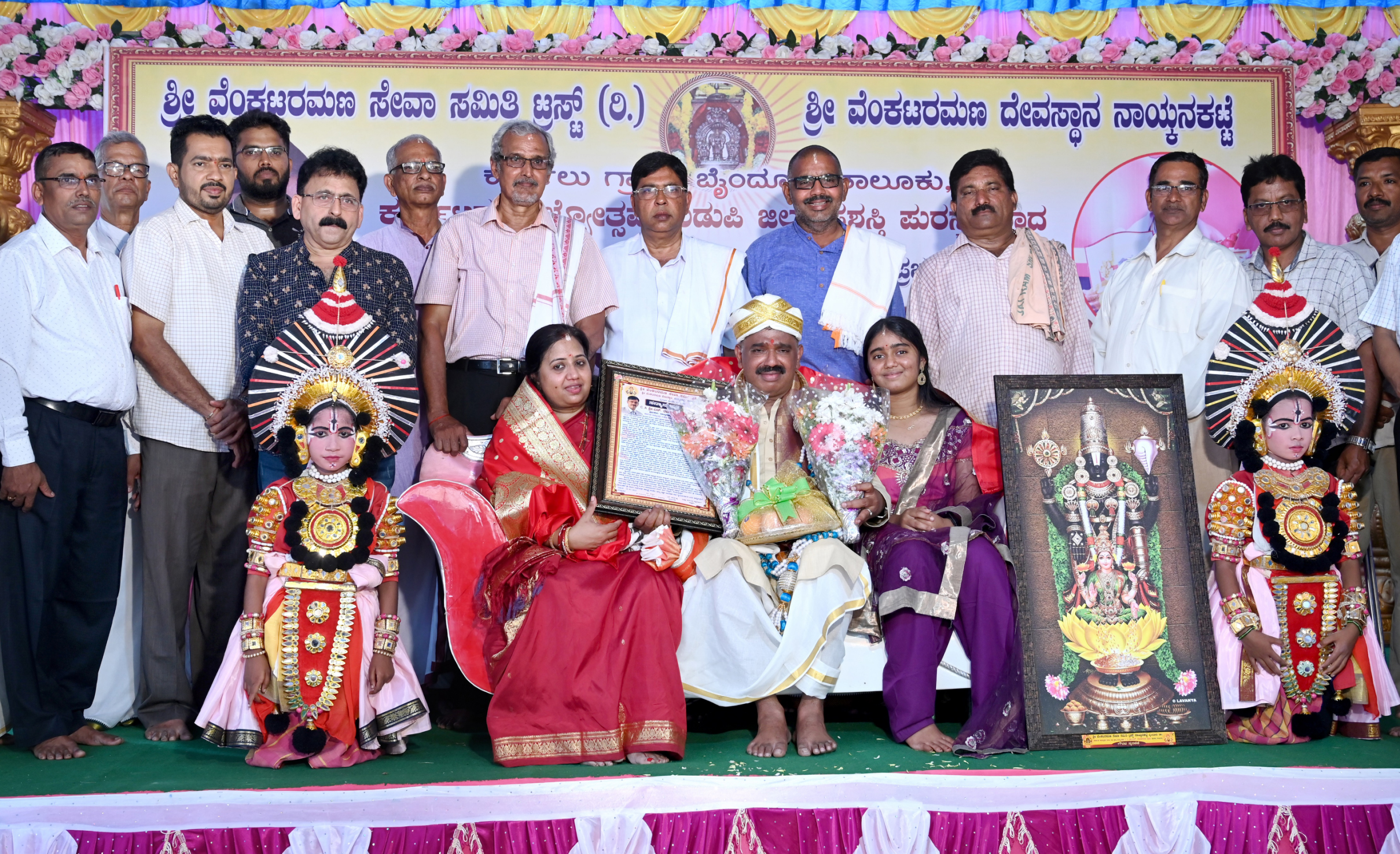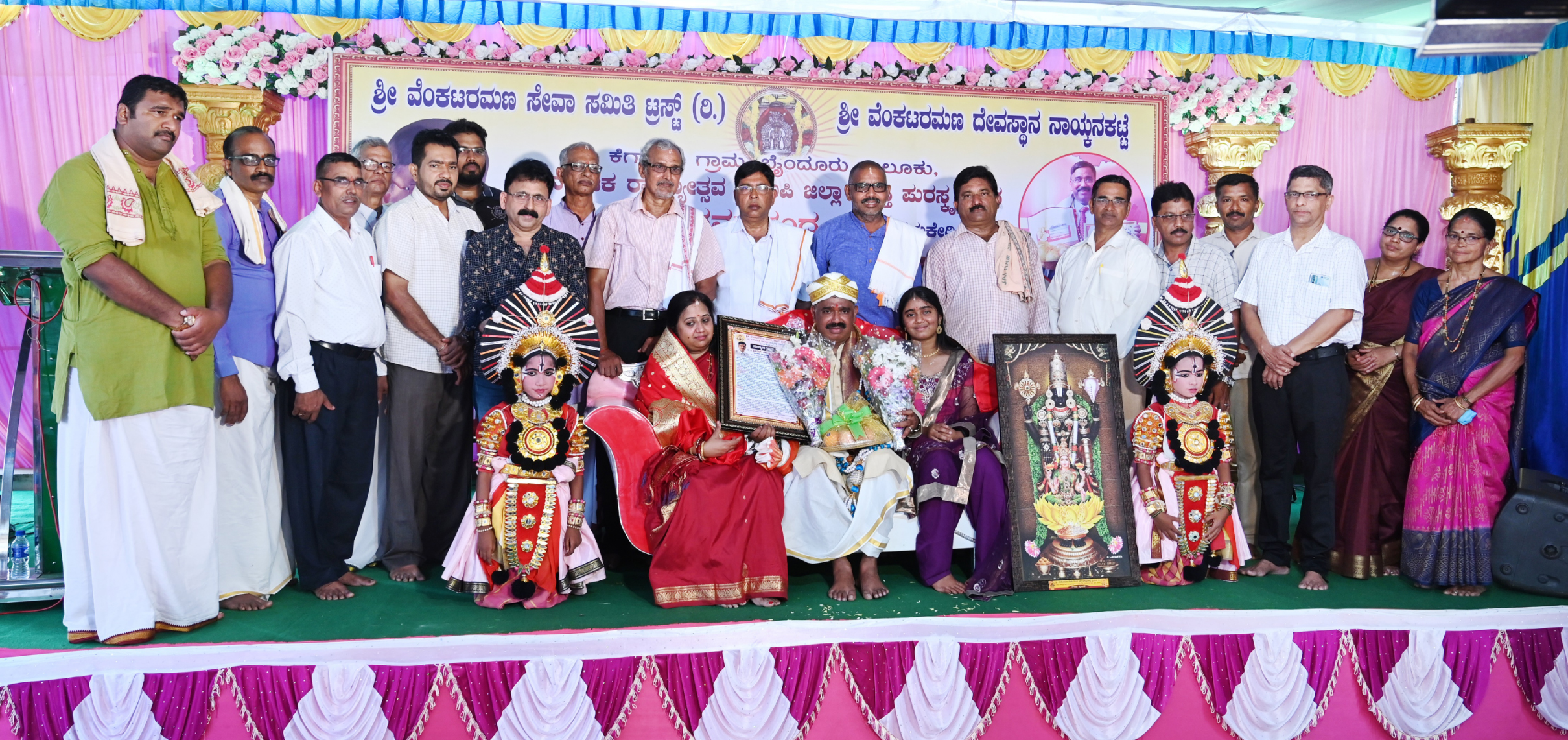 N Ramesh Pai, Secretary of the Seva Samithi compered the programme, Sri. Narayana Shanbhag, President, Seva Samithi, Sri.D.Gopalakrishna Kamath Hon.Chief guest, Sri. Om Ganesh Uppunda, Guest of Honour and Dr, N Ganesh Subraya Prabhu, Bhatkal, Sri. Pundalika Nayak, Sri.U.Prakash Bhat, Sri.Shashidhara Shenoy, Sri.Vinayak Kamath, Sri.Vishnu Pai, Sri.Ganesh Prabhu, Smt.Malathi Nayak, Smt.Shreemathi Shanbhag, Sri Guru Nayak member of the managing committee of the samithi did the role of honours. Sri Jagadish Pai, Manipal, Bharath Bhat, Siddapura, H Krishnananda Mallya, Airbail Rathnakar Nayak, D.Venkatesh Kamath, G.Kavitha Nayak, Sarvotham Kamath Surthkal, Ranganath Bhat, Dinesh Pai koteshwara, Ravindra Kini, Vasudeva Poojary, Janardhana Adiga, Sudhindra Bhat, Ramakrishna Karanath, Madhukar Holla, Mutthaiah Poojary, Ganapaiah Sherigar, Byndoor, U.Praveenchandra Shetty, Narasimha Nayak, Narasimha Pai, Udupi, CA Hariprasad Nayak, Hebri, Suresh Rao Bangalore, B M Bhat, Bangalore, M Ganesh Suvarna, Venkatesh Poojary, Ravindra Kini, Pundalika Kini, Vittal Kini, Vishnu Pai, Sri Vittaldas Bhat, Sri Veera Vittal Bhat, U Ganesh Bhat, Sudhakar Shetty, Shrikanth Upadhya, Raju Devadiga, Sri Sadan Das, Sri.Vasudeva devadiga and managing committee members of Namma Kundapura Balaga, Dubai all are present during the event.

While congratulating CA Prabhu on receipt of the Kannada Rajyostava Udupi District Award, Sri.D Gopalakrishna Kamath said, we are proud and honored to see the recognition of CA Prabhu, for his selfless contribution to accounting and audit profession in Sultanate of Oman and to recognize his extra-ordinary contributions during his tenure as Chairman of Muscat chapter ICAI, in sincere appreciation and recognition of his enduring commitment and dedicated services for Oman's accountants capacity building and his initiative towards setting up Omani Accounting Oversight body in Sultanate of Oman and also Launching of access to Virtual Digital learning Hub-library of ICAI to College of Banking and financial services, Oman. CA Prabhu has been in fore front when it comes to respond to the request for educational support for the needy. He has also contributed towards various community and social development initiative in Oman and India. It is proud moment for all of us in Naikanakatte village, Prabhu kerians, people of GSB community and overseas kannadigas today. Mr.Kamath also commended all the managing committee members of Sri Laxmivenkatarama seva samithi for organizing this mega event and create new mile stone in the undivided Dakshina kannada district to held this event of this magnitude to felicitate CA Prabhu. This will set new path, direction for our generation next to follow the good deeds of CA Prabhu as a role model for our community.

Sri Pundalika Nayak, retired managing director of KRSSS, while congratulating CA Prabhu said this Award will motivate and inspire more and more people to come forward and support voluntarily and partnering with the government in nation building and to be a substantial resource that strengthens the government's efforts in achieving financial stability and diversity in the country's economy, and an effective player in ensuring the continued development of the country and look forward to working for the benefit of all walks of the life of the society. As I have seen from his childhood, the initiative, interest, involvement, hard work, discipline, dedication and determination lead him to reach this success, without any background. His life itself is struggle all over from the beginning, we have witness this and part of his life journey. We are very proud for his achievement and he has made our whole village, district on the global map and made all of us proud with his good deeds. We look forward towards continuous contributions of CA Prabhu and his deeds should be followed by our youths and future generations. He also wishes and prays that CA Prabhu will also get the kannada rajyostava state award in the near future.

Shri.Om Ganesh Kamath Uppunda, while addressing the gathering said, Felicitation from the people from home is paramount in life, as his brothers, sisters, uncles, relatives poured in so much of love and affection and blessings to CA Prabhu, which I had never seen anywhere in the history. CA Prabhu had won the heart of people of his own house prabhukeri naikanakatte and also from all of us here is very rarest felicitation program of the century.Shri Kamath also recalled his meeting at uppunda, siddapura, Bengaluru, Chennai, Muscat and his brief interactions with CA Prabhu from his childhood days. CA Prabhu had demonstrated success is culmination of all the hardwork, soft work and smart work in today's time.

CA Ramananda Prabhu expressed his gratitude to late His Majesty Sultan Qaboos Bin Said and His Majesty Sultan Haitham Bin Tariq Al Said for the benevolence and peace and prosperity and friendly people of Oman, people of India and all government officials and all who had contributed directly or indirectly in achieving and contributing in this life journey. He also thanked all the well-wishers, friends, relatives who has felicitated him during the event and all the managing committee members of Seva samithi, Archak vrinda, Mahila vrinda and members of Prabhu kutumba, Dakkerabalu Kamath family, Argodu Shenoy Family, Giliyal Kamath family, Saralaya Family, Ballal Family, Hosangady Mallya family. After receiving the award CA Prabhu said "I'm so grateful and honored that I am blessed with this prestigious award, and that's why I am doing whatever little things to touch the lives of people in and around byndoor.

Mr.Janardhana Agiga Mogeri, congratulated Ramananda Prabhu, and said this is proud and joyous festive moment for all of us at Naikanakatte, Byndoor. As CA Prabhu, conferred the Kannada Rajyotsava Udupi District Award-2021, hailed from the ordinary agriculture family from Prabhukeri, Naikanakatte, done his schooling and up to college in the government institutions achieved this laurel will demonstrate the firing desire, hard work, dedication and determination will keep you ahead irrespective of all other factors in life. He is role model for the young generation for all Byndoorians, who had made a difference and achieved extra ordinary things in his professional career and inspire, empower the youth of the rural India. He beautifully penned his thoughts in a poetic form and presented to the gathering.

Sri.Vedamurthy G.Vedavyasa Acharya said while congratulating CA Prabhu, on this achieving new mile stone in the field of social service-Rajyotsava award, we all are happy and CA Prabhu had created history in Prabhukeri, GSB community Naikanakatte, Global GSB community, Global Kannadigas, by his achievements and also culmination of all his fore fathers, well wishes of his relatives, near and dear ones, blessings of elders, Shri Hari and Shri Gurus of all our mutt's. He also reminded gatherings CA Prabhu's contribution to Saaketa Project of Ninand Gangolli and his continued contribution to our community.CA Prabhu's selfless service and social service, dynamic leadership, thinker, advisor and mentor for young generations youths whose aspirations career prospectus for the capacity building and support continuous growth and development to accounting and audit profession in Sultanate of Oman and across the globe. I urge our youngsters to learn from CA Prabhu and adopt his moral values and up skill your knowledge and athmanirbhara and achievers in all walk of life"

Sri Narayana Shanbhag, while delivering his presidential address congratulated CA Prabhu on receiving the Kannada Rajyotsava Award and we are proud of CA Prabhu's recognition and it is proud feelings for all our GSB community. He also commended the contribution, sacrifice, un-conditional support of Mrs.Padmaja Ramananda Prabhu and Roshni Ramananda Prabhu from their family time to accommodate in the journey of giving back to the community and his active voluntary services in Oman and India.

Sri U Prakash Bhat, congratulated CA Prabhu on receiving the Kannada Rajyotsava Award and we are proud of CA Prabhu's recognition and his achievements and awards abroad. He has been actively involved in various social service and been continuously supporting educational institutions in which he has studied and philanthropist and currently serving as technical advisor on the Omani CA Association and also on the panel of Oman India Investment Forum. We wish him well in all his future endeavors.

Sri Ganesh Suvarna, SMS Parisar snehi, matnakatte, congratulated CA Prabhu for his social sense of responsibilities and for his various initiative, intention, implementation and demonstration of community welfare, moral, ethical and resolving civic issues with private public partnerships which brings sustainable support and benefits to society at large.

Sri H Krishnananda Mallya, Hosangady congratulated CA Prabhu on receiving the Kannada Rajyotsava Award and it is great achievement for him and all Prabhukerials Naikanakatte. We are you have been working constantly for the community and add value to people around you and demonstrated and lived good values. As Naikanakatte Prabhu family also known and continuously contributed for various facets of social service causes, it is the blessings of all your elders and your good deeds, you had bestowed this prestigious award, if your parents alive, they would have been very happy to witness this moment. He also recollected the hardship of Prabhu family in old days and wish CA Prabhu well for his intention to give back to and to do something for the people of his native, even though he is working abroad. Most of us live for ourselves. You are one of those who have lived for others and your good deeds will be remembered over the generations to come and you had created history and new mile stone in prabhukeri, Naikakatte, GSB community and Oman Kannadigaru.

CA N Ramananda Prabhu, son of Late N Pundalika Prabhu, hails from farmer's family, Prabhu Keri, Naikanakatte, Byndoor Tq. He did his schooling at Government Higher Primary School Naikanakatte, and did his high school at Khambadakone, Pre-University at Government Pre-University College, Uppunda and did his graduation B Com from Government First Grade College Byndoor in the year 1990. He then moved to Bangalore for higher studies to pursue Chartered Accountancy course and he widely worked all metros in India and done assignments in across the gulf countries and currently practicing his CA profession in Sultanate of Oman.

Day long program started in the morning with Dharmika programs of performing Pavaman Kalasha seve to Sri Laxmivenkataramana and Sri.Sathyanarayana swamy Pooja under guidance of Kula purohit Ved.Veera Vittal Bhat accompanied by Balakrishna, Vinod Upendra Bhat Bhatkal and followed by maha prasad to all.

Morning a medical camp for blood test for sugar and cholesterol level check-up campaign was organized and sponsored by Saaketa, Ninada Gangolli for Prabhu Kutumbh, Prabhukeri, Naikanakatte.

Yakshagana poorva ranga performance by Bhagavath Yogendra Achar and team Taggarse and Durgaparameshwari Chande troupe added the vibrancy to the event with traditional coastal chande rhythm. Mr.Vinayaka Kamath and team rendered prayers and bhajans, Mr.N Ramesh Pai concluded the programme with vote of thanks to each and every one who had come all the way to witness this mega felicitation program of CA Prabhu Huttoora Sanman. It was feast for people in and around Naikanakatte and large crowd witnessed the programme.
Write Comment
|

E-Mail
|

Facebook
|
Twitter
|

Print