Airlines operating from Mangaluru International Airport record good passenger loads
Mangalore Today News Network
Mangaluru, Sept 24, 2023: Airlines operating out of Mangaluru International Airport (MIA) on domestic and international routes are recording good passenger loads. According to the arrival data for the first five months of the present fiscal year, airlines – IndiGo and Air India registered passenger load of 87.5 per cent on the domestic destinations they connect directly. Air India Express and IndiGo clocked loads of 81.7 per cent on international routes.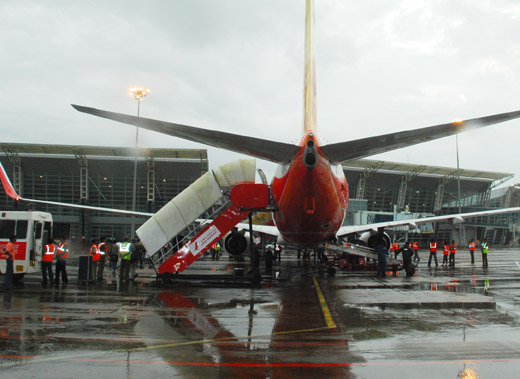 Against a seating capacity of 3,21,554 on flights landing at Mangaluru from Bengaluru, Chennai, Delhi, Hyderabad, Mumbai, and Pune, IndiGo and Air India among them had ferried 2,80,739 passengers (load factor of 87.5 per cent). Arrivals from Mumbai saw the highest load factor of 91.5 per cent with 112973 passengers traveling against a seating capacity of 123836. Pune had the least load factor of 69 per cent with 11,078 travelers against 16,062 seats on offer.

For domestic flights departing from Mangaluru, Chennai and Hyderabad were almost on an even keel, recording passenger loads of 89.91per cent and 89.66 per cent respectively. A total of 10520 passengers emplaned for Chennai against 11,700 seats on offer, while Hyderabad saw 21370 passengers travel against 23,836 seats for the taking. Mumbai was a close third with a load factor of 87.3 per cent (1,08,695 traveling against 1,23,836 seats on offer).

On the international sector, the airlines recorded a passenger load of 81.7 per cent for 1,10,823 passengers arriving from Abu Dhabi, Bahrain, Dammam, Doha, Dubai, Kuwait, and Muscat between April and August. The seats on offer for these destinations in these five months were 1,35,626. The departure load factor for the above destinations from Mangaluru was 83.3 per cent with 1,12,930 passengers traveling against a capacity of 1,35,449.

Arrivals from Dubai to Mangaluru saw airlines ferry 67,538 passengers against a capacity of 76,841, passenger load of 88.26 per cent. Abu Dhabi was the next busiest, with an arriving passenger load of 85.65 per cent (13,414 travelers against 15660 capacity). Abu Dhabi emerged as the most sought-after international destination from Mangaluru clocking a load factor of 90.12 per cent with 14,276 passengers traveling against 15,840 seats that were on offer.

In August, a total of 1,66,047 passengers traveled, both domestically and abroad. The arrival load factor to the 13 destinations was 83 per cent with 79377 passengers traveling against 96837 seats on offer. Departures saw a load factor of 90 per cent with 86670 passengers emplaning against 96837 seats on offer. With additional domestic flights scheduled in the upcoming winter schedule, more people are expected to travel to and from Mangaluru.
Write Comment
|

E-Mail
|

Facebook
|
Twitter
|

Print