Siddaramaiah assures action on textbook revision
Mangalore Today News Network
Bengaluru, May 30, 2023: Addressing concerns raised by progressive thinkers and writers regarding controversial revisions made to textbooks during the previous BJP government's tenure, Chief Minister Siddaramaiah assured that the Congress government would take necessary steps to ensure the education of children is not negatively impacted.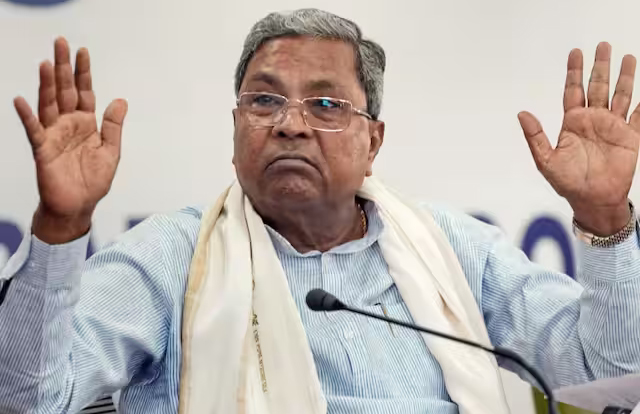 A group of around 30 academicians and writers met with the Chief Minister in Bengaluru on Monday, submitting a memorandum outlining several demands for educational reform. These demands included addressing the contentious textbook revisions and lifting the ban on hijabs in educational institutions.

Siddaramaiah emphasized that safeguarding Karnataka's secular heritage and harmony was of utmost importance. He stated, "We will eliminate the politics of hatred and eradicate the climate of fear."

Expressing concern over the indoctrination of children through distorted texts and lessons, the Chief Minister affirmed that action would be taken promptly to avoid disruption to children's education, as the academic year was already underway.

The memorandum, presented under the banner of 'Samaanda Manaskara Okkoota - Karnataka', urged the immediate amendment of anti-constitutional and communal textbooks to prevent adverse effects on children's minds. The academicians and writers also emphasized the need for textbook revisions to be completed by the following year.

Furthermore, the group appealed to the state government to revoke the ban on hijabs in educational institutions, highlighting the educational barriers faced by thousands of girls due to the hijab controversy.

The Textbook Revision Committee, chaired by Rohith Chakrathirtha, faced criticism from writers, academics, religious leaders, and opposition parties last year. They accused the committee of attempting to "saffronize" the curriculum by omitting works of social reformers and progressive thinkers.

The revised textbooks sparked opposition from various quarters due to historical distortion and the promotion of a right-wing, pro-Hindutva ideology. Objections were raised regarding the exclusion of chapters on social reformer Narayana Guru, freedom fighter Bhagat Singh, and works by progressive writers such as Sara Aboobacker and P Lankesh. Conversely, the inclusion of chapters on RSS founder KB Hedgewar and works by right-wing ideologues like Chakravarti Sulibele, Govinda Pai, and Bannanje Govindacharya drew criticism.

Additionally, concerns were expressed about omissions and discrepancies in chapters related to religious icons like 12th-century social reformer Basavanna and personalities like Dr. Babasaheb Ambedkar. Noted writers such as Devanur Mahadev, G Ramakrishna, and SG Siddaramaiah withdrew permission for the use of their works in protest against the textbooks.

Renowned writer SG Siddaramaiah, who met with Chief Minister Siddaramaiah on Monday, stated that the Chief Minister considered everyone's opinions, from the hijab ban to the textbook revision controversy. Siddaramaiah assured them that appropriate action would be taken promptly.

"We urged him to recall the saffronized textbooks within 15 days and identified problematic words and chapters. We proposed blackening certain sentences and words, as even a single word can pollute children's minds."

"We also discussed the impact of hijab bans and uniforms on the education of Muslim students. The Chief Minister responded positively and assured us that measures will be taken," Siddaramaiah added.

The memorandum presented additional demands, including stern action against those who create an atmosphere of fear by threatening writers and thinkers.

Last year, several writers, including Siddaramaiah, K Marulasiddappa, Nagarajaiah, Na D'Souza, BT Lalitha Nayal, and Devanooru Mahadeva, who opposed the textbook revisions, received.