Security Forces bust two terrorist modules, arrest five LeT hybrid terrorists in Kulgam
mangaloretoday.com
Srinagar, Sep 26, 2023: The Jammu and Kashmir Police in a joint operation with the Indian Army and CRPF busted two terrorist modules by arresting five Lashkar-e-Toiba Hybrid terrorists in South Kashmir's Kulgam. Top Police official's said that in a major success in curbing terrorist activities; J&K police along-with army, and CRPF busted two terrorist modules and arrested five hybrid terrorists. Police officails said huge cache of arms and ammunition including 02 Pistols, 03 Hand Granedes 01 UBGL, ammunition etc, have been recovered from the possession of these terrorists.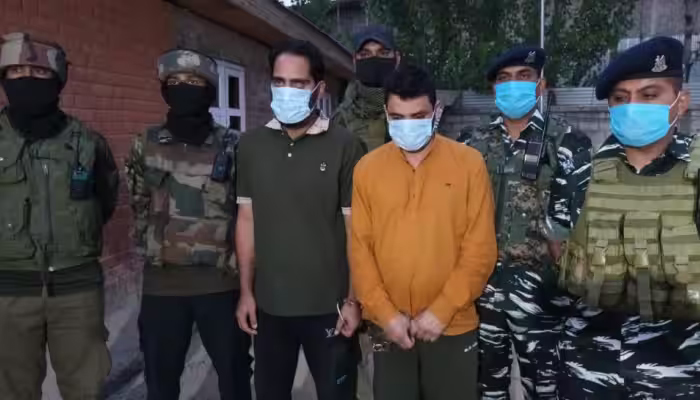 The arrested terrorists have been identified as Aadil Hussain Wani, Suhail Ahmad, Aitmad Ahmad Laway, Mehraj Ahmad Lone and Sabzar Ahmad Khaar. Official's said that these terrorists apart from assigning the task of terrorist attack on forces were also told to recruit more terrorists in South Kashmir areas.

Police officials said that based on intelligence inputs forces were tracking these terrorists and arrested them before they could have succeeded in their nefarious designs. Officials said further investigation is going on and they are expecting some more arrests in the case.

In September this according data provided by security forces 16 anti national were arrested till now including 7 active hybrid terrorists and huge number of arms and ammunition also recovered from them. Beside 6 terrorists were killed this month 2 in poonch area 2 in uri and 2 in longest encounter of three decades in kokernag.

Sources in Security agencies say that focus have been shifted to jammu kashmir hills now mostly to peer panjal range. As since May month security forces were attacked in this range only and security forces suffered losses too. A police officer said that soon combing operations will be launched in hills of Jammu Kashmir to reach to the hiding terrorists in area.

Courtesy: Zee News