Karnataka's 21 most influential business icons honored with 'Gulf Karnataka Ratna Awards'
Mangalore Today News Network
September 11, 2023: The Gulf Karnatakotsava, an event dedicated to honoring the outstanding contributions and work of Karnataka-origin business icons in the Gulf region, concluded on a grand note. This occasion, which was scheduled on September 10th, 2023, marked a significant milestone as it paid tribute to a total of 21 exemplary Most Influential Business individuals. These distinguished honorees, recognized as 'Gulf Karnataka Ratna,' received their recognition from the esteemed Chief Guest, His Highness Sheikh Mohammed Maktoum Juma Al Maktoum, a Member of the Royal Family of Dubai and the Chairman of MBM Group. The heart of this momentous event was a coffee table book launch, capturing their achievements and dedication to both the Gulf nations and their home state of Karnataka.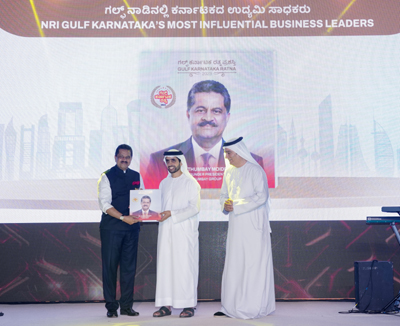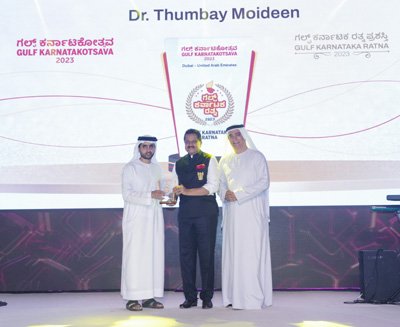 The Gulf Karnatakotsava was a resounding success, drawing more than 1000 attendees from all walks of life and capturing the essence of Karnataka's rich culture, heritage, and business prowess. The event served as a platform to acknowledge and celebrate the remarkable success stories of these individuals who have made a significant impact on the economic and social fabric of both the Gulf countries and Karnataka.

The highlight of the event was the felicitation of the 21 distinguished individuals who were honored as 'Gulf Karnataka Ratna Awards.' These business icons, representing the most influential and powerful leaders from a wide array of industries, who have achieved tremendous success but have also contributed significantly to the welfare of their communities and the betterment of Karnataka.

The list of notable icons featured in the coffee table book and 'Gulf Karnataka Ratna 2023' awardees included Dr. Thumbay Moideen, emerging as the number one contributor in Medical Education and Healthcare sector of UAE. Notably he's the only businessman from Karnataka who holds the distinction of being world's only businessman from Karnataka to own a private medical University outside of India, the leader in healthcare and medical education in UAE. Other awardees included: Hidayatullah Abbas, Founder & Chairman, Hidayath Group; Mohammed Meeran, Chairman of EMCO International and Electric Way; James Mendonca, Founder & Chairman, Reliable Group of Companies; Nissar Ahmed, Chairman, Nash Engineering; Ramchandra Hegde, Managing Director, Spraytek Coatings; Joseph Mathias, Managing Director, Merit Freight Systems; Vasudeva Bhat Puthige, Owner, Venus Group of Restaurants; Mohammed Naveed Magundi, Intignis Naveed Company; Mansoor Ahmed, Chairman, Saara Group; M. Syed Khalil, Founder Chairman, K&K Enterprises; Michael D'Souza, Managing Director, Ivory Grand Real Estate; Ibrahim Gadiyar, Managing Director - Gadiyar Group of Companies and Director Projects - Pantheon Development Group; Dr. B.K Yousuf, Executive Chairman, Air Chateau International; Dr. Sathish P Chandra, CEO, Global Tech Park; Zafrullah Khan Mandya Chairman and Founder, ZGC Global / Zain Group of Hotels; Devid Frank Fernandes, Chancellor General MEA, Peace Ambassador & Chief of Mission (UAE) ICDRHRP IGO, Martin Aranha, Managing Director, Globelink West Star Shipping, John Sunil, Group Chief Executive Officer, Burjeel Holdings, Mohammed Ashif, Co-president and CEO, Expertise contracting and Ravi Shetty, Managing Director, Advanced Technical Services. Their stories of perseverance, innovation, and commitment to excellence served as an inspiration to all attendees.

The Gulf Karnatakotsava was not just about awards and accolades; it was a true celebration of Karnataka's vibrant culture and artistic heritage. The event featured a captivating blend of cultural performances, musical concerts, and comedy acts that left the audience enthralled. Traditional dances such as Pili Vesha were showcased, transporting the audience to the heart of Karnataka.

The musical segment of the event witnessed renowned artists and musicians such as, Santosh Venky, Guru Kiran and noted playback singer Chaitra HG, was a testament to the harmonious coexistence of cultures and the bond between Karnataka and the Gulf countries. Comedy, often regarded as the universal language of laughter, also played a pivotal role in the event. Comedian Kannada actors Prakash Thuminad and Deepak Rai Panaje had the audience in splits, providing moments of pure joy and amusement amidst the grandeur of the evening.

The Gulf Karnatakotsava was a celebration of success and a testament to the strong ties between Karnataka and the Gulf countries. It highlighted the importance of recognizing and honoring the contributions of individuals who have bridged the gap between these two regions, fostering cultural exchange, economic growth, and mutual understanding. As the curtains closed on the Gulf Karnatakotsava, it left behind a legacy of inspiration and pride. The 'Gulf Karnataka Ratna' awardees serve as an encouragement for aspiring entrepreneurs and a reminder that Karnataka's heritage and success stories continue to shine on the global stage.