Doha: Indian Cultural Centre celebrates World Youth Skills day
Media Release
Doha, July 27, 2022: The 'World Youth Skills Day' celebrations were organized by ICC Youth Wing with pomp and show, a 'great ostentatious display' of skill and talent combined on July 15.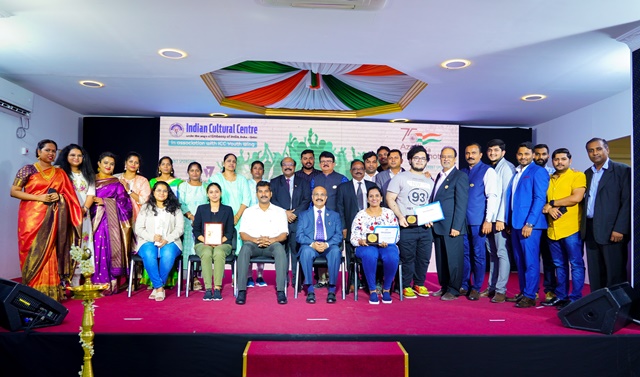 The event has many firsts in the history of ICC. One of them was recognition of young achievers, Adhrika Manikandan Nair, who raduated with Honours and Order of Excellence. She was the proud recipient of the distinguished Student Award from Her Highness Sheikha Jawahar bint Hamad bin Suhaim Al Thani for her distinguished performance from Qatar University.

The proudest moment for all young Indians, Anvi Amit Joshi, 14 years old and studying in Oryx International school who was practicing trekking from the age of 7 years has reached the highest Volcano peak, Mount Kilimanjaro of 5895 meters height in Tanzania.

Yet another young achiever identified was Dr Harshita Shailesh, who received her Ph D. from Qatar University, upon completion of her thesis on proliferative signaling in breast cancer, was also feted in her absence.

The felicitation ceremony was steered by Krishna Kumar Bandhakavi general secretary and mementos were presented by Xavier Dhanaraj first secretary and coordinating Officer of ICC along with DTM Sonny Varghese, guest of honor, Dr Kavitah Mustafa ME, PhD, professor, Anna University, ICC president PN BabuRajan and KS Prasad ICC advisory chair.

The evening reverberated with mesmerizing performances presented seamlessly in presence of Indian Community leaders Vinod Nair ICBF president, Mahesh Gowda KSQ president, Subramanya Hebbagelu VP ICC, Rajini Murthy MC ICBF, ICC MC members Kamala Thakur, Afsal Majeed, and many more attended the evening.

The day was steered by Harika with her crisp and concise introductions.

The highlight of the evening was a motivational speech by chief guest Xavier Dhanraj and a very inspiring speech delivered by veteran toastmaster DTM Sonny Varghese.

Another first was, a proud moment and a big achievement by ICC Youth Wing Team taking complete responsibility for conceptualizing, planning, and flawless execution. The entire event was led and coordinated by Dishari and Pallavi. The fashion show was led by Sadhana and Manjoth, Singing teams were coordinated by Shyam Mohan Instrumental Music by Dileesh and Manjit, Vegetable Carving and Best out of Waste were led by Naveena Priya and Hashim. On the day of the event and as part of preparations, Vinod, Nauful, Ashique were continuously supporting the activities.

The majority of performers were first-timers on ICC or similar platforms, many singers, dance teams, Instrumental music by Chenda Melam, Tamil Parai dance, fashion show, vegetable carving, and best out of waste were the main attractions of the day. All the activities are presented with the highest precision and perfection showing the talent and skills of the participant.

Winners were presented with mementos and participants with certificates. Shyam Mohan proposed a vote of thanks.