Viral video shows how ropes are made from a part of coconuts, Watch
mangaloretoday.com/NDTV
November 06, 2023: Sustainability has become an integral part of our daily lives, with more people embracing eco-friendly choices to reduce their environmental impact. One remarkable example of sustainability is coconut, a ubiquitous and versatile natural resource. Coconuts are commonly found in many parts of the world, and they offer a multitude of sustainable applications.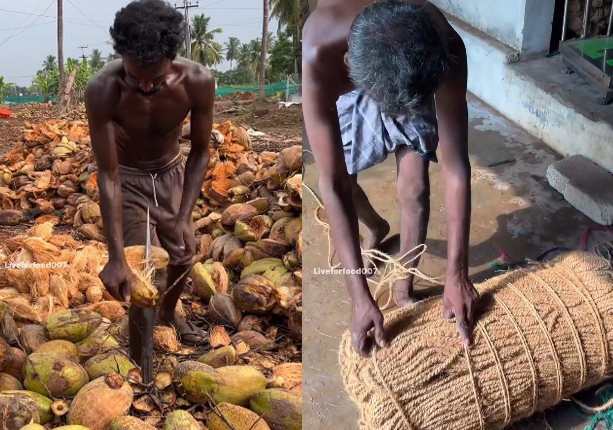 From the nutritious water and fruit inside to the durable shell and fibrous husk, coconuts provide a treasure trove of eco-friendly possibilities. They can be transformed into a variety of sustainable products, such as coconut oil, milk, and flour, which are not only nutritious but also contribute to reducing food waste. Moreover, coconut shells can be repurposed to create eco-friendly utensils, containers, and even home decor. The abundance of sustainable items derived from coconuts highlights how everyday choices can make a positive impact on both our lives and the environment.
Recently, a food vlogger, named 'liveforfood007', on Instagram shared a captivating video showcasing the process of creating ropes from leftover coconut shells. The video unfolds as the coconut shells are initially sliced and left to dry. Once dried, small quantities of these shells are carefully fed into a specialized machine designed for processing the shells into rope threads. These threads are then skillfully gathered to form bundles of sturdy string ropes. These bundles are further wrapped into large rolls, which are neatly stacked for sale.

People were impressed by the hard work of the labourers, while others mentioned they had never seen this technique before. The majority of viewers left comments like "Nice job," "Wow," and "Great."

One user commented, "Heard for the first time today, that rope is also made from coconut stick."

A grateful user wrote, "Wow...Today I understood how to make a sack rope... Lots of love to you brother."

"Crores of goods were thrown on the road just like this. Today I came to know," someone else remarked.
Write Comment
|

E-Mail
|

Facebook
|
Twitter
|

Print