67-Year-old Kerala man builds electric car for daily commute, sets an inspiring example
Mangalore Today News Network / News18
May 16, 2023: Electric vehicles have long been hailed as the future of mobility, and their popularity continues to soar. Leading manufacturers like Tata and MG have made their mark in the electric car segment, while several two-wheeler companies have also ventured into this market. As the world embraces the electric revolution, innovative individuals are stepping forward with their own contributions. In a heartwarming video that has gone viral, we meet Antony John, a 67-year-old man from Kerala's Kollam district, who has crafted his very own electric car for his daily commute.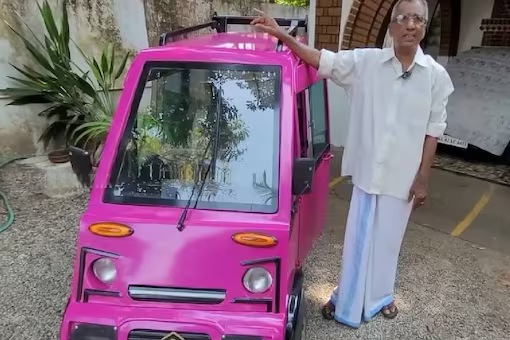 Village Vartha, a popular YouTube channel, recently uploaded a video featuring Antony John and his incredible creation. This inspiring story showcases Antony's determination to build an electric car tailored to his needs. Previously relying on an electric scooter for his daily travel, Antony sought a more comfortable and weather-resistant mode of transportation as he grew older. Unfortunately, he couldn't find a suitable electric vehicle in the market at that time, which sparked his journey to construct his own.
Back in 2018, Antony embarked on extensive research to design and assemble his electric car. To bring his vision to life, he collaborated with a local garage renowned for its expertise in building bus bodies. Armed with a design he found online, Antony entrusted the garage with the task of constructing the body according to his specifications. The end result is a compact electric car, designed to accommodate two adults comfortably, with ample space for children in the rear seat. While the garage took care of the car's body, Antony personally handled all the intricate electrical work.

The key components of the electric car, including batteries, motor, and wiring, were sourced from a vendor based in Delhi. Antony commenced the project in 2018 but faced delays due to the pandemic. Being an amateur in electric vehicle construction, he encountered several obstacles and made a few mistakes along the way, which prolonged the process. Initially, there was an issue with the battery power, resulting in insufficient driving range. Once the lockdowns and restrictions were lifted, Antony reconnected with the vendor, who recommended a higher-capacity battery to rectify the problem.

This homegrown electric car boasts a maximum speed of less than 25 kmph, making it fall under the category that does not require registration plates in India. However, Antony ensures that he possesses a valid driving license while operating the vehicle.

With an investment of approximately 4.5 lakh rupees, Antony's electric car has become his pride and joy. The new battery installation has extended its driving range to a maximum of 60 km, providing him with a reliable mode of transport for his daily commute to the office. It's worth mentioning that Antony reserves the electric car for his personal use, while his family travels in their Maruti Alto. The car features a simple exterior design, while the interior boasts bench seats, a steering wheel, and accelerator and brake pedals. Its compact dimensions make navigating narrow and bustling streets a breeze, while finding parking spaces has become effortless for Antony with his electric car.

Antony John's remarkable journey serves as a shining example of how passion and determination can lead to extraordinary achievements. His self-built electric car not only provides him with a comfortable and sustainable means of transportation but also inspires others to explore the endless possibilities of electric mobility.


Write Comment
|

E-Mail
|

Facebook
|
Twitter
|

Print