Terror threat? Fake Aadhaar cards available for a mere Rs 200
Mangalore Today News Network
New Delhi, Mar 27, 2018 : Terror organisations like Ansarullah Bangla Team are always on the lookout to carry out a strike against India. These terror groups have been known to use fake Indian identity cards for nefarious designs. As per Zee Media sources, illegal Bangladeshis and those associated with ABT group are planning to change their locations using fake identity cards even as the Maharashtra ATS has already warned about the group planning to conspire against India.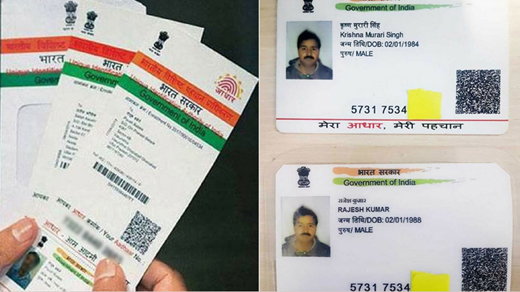 The investigating agencies recently arrested five people allegedly having links to terror groups from Pune, Mahad and Ambarnath. Fake identity cards were found on them. Following this, Maharashtra ATS undertook a major crackdown on illegal Bangladeshis living across the country. More than two dozen people are said to have been arrested in the past two weeks.

An investigation by Zee Media's special investigation team has revealed that there are many areas in Mumbai from where fake identity cards can be procured. An ID card can be made for a mere Rs two hundred. One can travel anywhere by train and flight using these.


How the investigation was carried out:

Zee Media team reached Mumbai's Malwani area, from where some illegal Bangladeshis were arrested recently, to investigate how easily a fake identity card could be made. They met an agent there who gave them a confirmed ticket of sleeper class on a Mumbai-Delhi train for Rs 1000. The ticket for Sampark Kranti Express from Bandra terminus to Hazrat Nizamuddin had been booked in the name of one Rajesh Kumar. The timing of the booking (using a special software) was - 1 minute and 57 seconds - within just 117 seconds after tatkal bookings began.

The team reached the office of the agent again in the evening on the same day and told him that Rajesh Kumar could not travel due to some reason and needed to stay in Mumbai. However, the Zee team asked the agent whether it was possible to send another person on the same ticket. The agent said that he could make a fake identity card for Rs 200. He assured that a fake Aadhaar card of Zee Media team member Krishna Singh could be made in the name of Rajesh Kumar.

And as promised, the team was delivered a fake Aadhaar card in the name of Rajesh Kumar. The agent duly returned Krishna Singh's card after the process was done. Both the cards had the same number, photo, date of birth and address. Only the name was different on both the cards.

The agent warned the team to use the fake card only to travel till Delhi and destroy it on reaching the destination. The investigation has clearly exposed that getting an Indian identity card is extremely easy and a major security threat.



courtesy:Zeenews

Write Comment
|

E-Mail
|
Facebook
|

Twitter
|

Print