Sports Science Workshop at Manipal University
Mangalore Today News Network
Manipal, Dec 10, 2015 : Dr H. Vinod Bhat, Vice Chancellor Manipal University presided over the valedictory function of the second edition of Sports Science workshop, "Sportsman 2015", on Wednesday, Dec 9.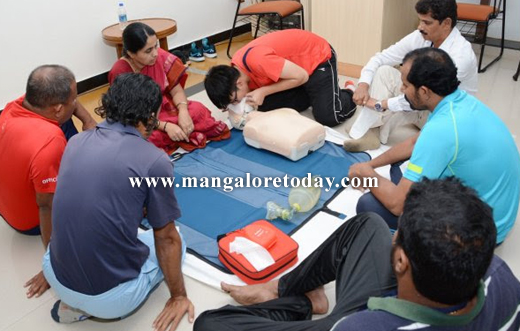 Addressing the participants of the workshop, he said, "As coaches, trainers and talent spotters you need to be as objective and scientific as you can be and help the next generation of sportspersons to bring the medals which India richly deserves." He hoped that the three days have helped each one to understand a little more than what they already knew.

As for the sessions on the three days, it covered topics such as, "Sports injuries", "Core strengthening for improved performance", "Effects of physical activities on human body", wherein a lot of practical information was imparted to the 52 participants, who included coaches, trainers, directors of physical education from different colleges, research scholars and physiotherapy students. There were 14 resource persons in all.

Three experts from the National Institute of Sports Patiala, expounded theory on Sports Biochemistry, "Sports Psychology" and "Sports Kinanthropometry". Dr Sunil Purohit, Dr Deepak Mishra and Jaswind Singh respectively took those sessions. "Handling Gender" was conducted by Dr Nandini Lakshmikantha, Director School of Communication.

Dr Sharath Kumar Rao, Associate Dean, KMC Manipal gave a general overview of sports injuries, particularly the common ones sports persons suffer. How sports injuries take place, direct and indirect injuries, how to prevent injuries, common injuries for all sports, with ankle as example, ligament tear, recovery and rehabilitation were some of the topics he covered. "Identifying an injury is the most important and then proceeding with the treatment is important," he said.

Dr Fiddy Davis, Associate Professor and programme coordinator of MSc Exercise and Sports Sciences, School of Allied Health Sciences showed how important it was to strengthen the core for any sport. After a good theory session, he himself demonstrated certain exercises to strengthen the core muscles.

Dr Kumar MR, Sports Advisor KMC, Manipal Informed in detail about the importance of exercise on the body. He spoke of the calorie intake and how to burn it, and, howto develop different muscles involved in different games. He also had a hands-on session with the participants at the anatomy museum.

The concluding day was devoted to hands-on training in the University's Simulation Centre where the participants were able to learn basic life support mechanisms. Dr Shobha KL, in charge of the Centre explained how an emergency situation on the field could be handled with basic knowledge. The participants then got a hands-on experience on the mannequins.

"A very rewarding experience," said a participant and added "It was a very informative and a wonderful learning experience". The workshop was organized by the Sports Council of Manipal University, Manipal in association with the Sports Authority of India.

Write Comment
|

E-Mail
|
Facebook
|

Twitter
|

Print