Six PFI activists join Islamic State, claims Kerala Police
Mangalore Today News Network
Kerala, Nov 02, 2017 : Kerala's Popular Front of India (PFI), a non-profit organisation, has been under NIA investigation. The PFI was accused of brainwashing Hindu women and marrying them off to Muslim men. The organisation, however, denied this accusation. The PFI was also accused of being involved in hawala funding and murderous assaults, and had allegations of having links with the Islamic State.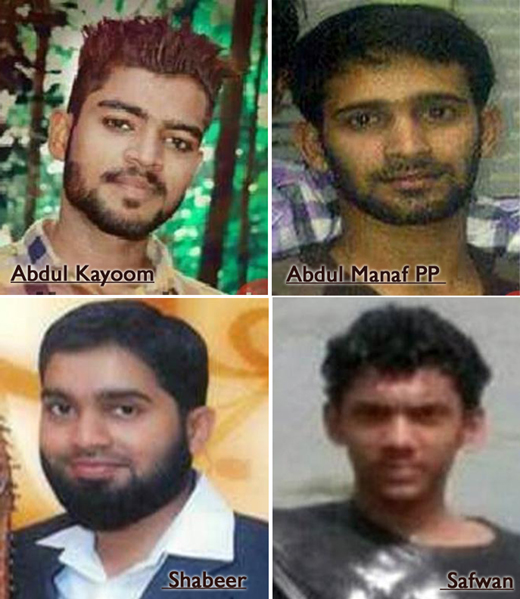 An India Today investigation -- Operation Conversion Factory -- secured startling confessions of the non-profit organisation's top functionaries about mass proselytizing, illegal financing and about its ultimate goal to turn India into a theocratic Islamic state and exposed PFI.

Now, the Kerala Police claims to have identified six PFI activists from Kannur district who have joined the Islamic State. Kannur DYSP said that all six men were active as PFI activists in the state. Police said that these men managed to move out of India, possibly to Syria, with fake passports.

The six men identified are Abdul Ghayoom, Abdul Manaf, Shabeer, Suhail and his wife Rizwana, Safwan.OPERATION CONVERSION FACTORY IMPACT

Union Minister Ravishankar Prasad said PFI should be banned and the exposed leaders should be prosecuted.

"Your investigation shows that there is a PFI, the Popular Front of India, which is having an organised racket employing people who are owning it up on your channel that they are creating a radical group by some kind of psychological brainwashing," said law minister and BJP leader Ravi Shankar Prasad.

"These NGOs that profess that they stand for peace, profanity stand exposed today at your channel. That's a great job you have done. My greetings and congratulations to you," said Prasad.

"I have to point out that unfortunately none of the reporting that has come out in the papers, one finds that they haven't caught the the gist of the argument which thankfully your channel seems to have through this entire exercise in a very very good manner caught," said BJP spokesperson Nalin Kohli.
courtesy:Yahoo

Write Comment
|

E-Mail
|
Facebook
|

Twitter
|

Print