Prime Minister's address to the nation on the 73rd Independence Day
mangaloretoday.com/ yahoo
New Delhi, Aug 15, 2019: Prime Minister Narendra Modi, on Thursday, 15 August, addresses the country after hoisting the national flag at New Delhi's Red Fort, on the occasion of India's 73rd Independence Day.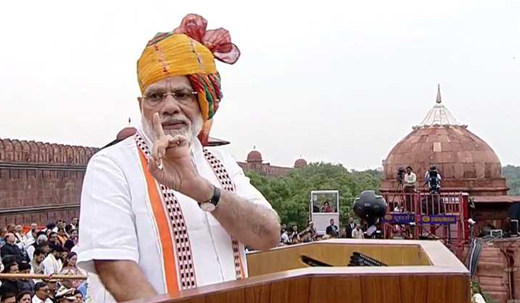 PM Modi's speech on Thursday is his first 15 August address after coming back to power with a huge mandate. The Independence Day celebrations this year come in the wake of tensions in J&K after effective revocation of Article 370.
He wished people for Rakshabandan festival.
""I congratulate all my brothers and sisters a very happy Rakshabandhan. May this festival of love fulfills all our aspirations."" - PM Narendra Modi.
PM Pays Tribute to Mahatma Gandhi at Raj Ghat

Ahead of his first speech after assuming office for the second time, Prime Minister Narendra Modi paid tribute to Mahatma Gandhi at Raj Ghat.
Water for All: Modi's 'Jal Jeevan' Promise on Independence Day

"I am announcing from the Red Fort that we will go ahead with 'Jal Jeevan Mission' to ensure that drinking water reaches every house in the country," said PM Narendra Modi in his Independence Day address.
We Have Liberated People of J&K, Says PM Modi in I-Day Speech

PM Modi talked about the effective revoking of Article 370 and the bifurcation of the erstwhile state of J&K by stating that it has resulted in "one nation, one constitution."
""The old system in Jammu, Kashmir and Ladakh led to corruption, nepotism but there was injustice when it came to rights of women, children, Dalits, tribal communities.The dreams of sanitation workers were incomplete. How can we accept this? We have liberated them."" - PM Narendra Modi
When We Can Ban Sati, Why Not Triple Talaq: PM Modi

Touching upon the criminalising the Triple Talaq practice, PM Modi said that when government can ban Sati, why not this.
""Remember how scared Muslim women were, those who suffered due to practice of Triple Talaq, but we ended that. When Islamic nations can ban it then why can't we? When we can ban Sati, when we can take strong steps against female infanticide, child marriage, then why not this?""
Time to Fulfill India's Dreams: PM Modi in I-Day Speech

In his Independence Day address, PM Narendra Modi said that 2014 to 2019 was a period of fulfillment of requirements of Indians but the period after 2019 is a period of "fulfillment of the aspirations of the countrymen."
""This is the time to think about the India of the 21st century and how the dreams of the people will be fulfilled."" - PM Narendra Modi
Stand With Those Suffering From Floods, Says Modi

Acknowledging that many Indians are suffering due to floods in various parts of the country, the PM Narendra Modi said that he stands in "solidarity" with them.
""India understands the important of water conservation and thus, a new ministry for Jal Shakti has been created. Steps have been taken to make the medical sector even more people friendly."" - PM Narendra Modi
Fulfilled Patel's Vision by Revoking Article 370: PM Modi

In his Independence Day address, PM Modi said that the government has fulfilled the vision of Sardar Patel by revoking Article 370 and 35A.
""The new government has not completed even 10 weeks, but in this short span of time in every sector we have taken important steps. Article 370 and 35A being revoked is a step towards realizing the dream of Sardar Patel."" - PM Narendra Modi

Write Comment
|

E-Mail
|
Facebook
|

Twitter
|

Print