PM Modi announces Rs 20 Lakh crore economic package with focus on self reliance
Mangalore Today News Network
New Delhi, May 12, 2020: Prime Minister Narendra Modi today announced a Rs 20 lakh crore economic package for what he called "Mission Self-Reliant India" to tide over the coronavirus crisis. "This package is for migrants and farmers who work for the nation day and night, no matter the circumstances," the Prime Minister said, addressing the nation.

The special economic package would be the main component of "Atma-Nirbhar Bharat (self-reliant India)", he said.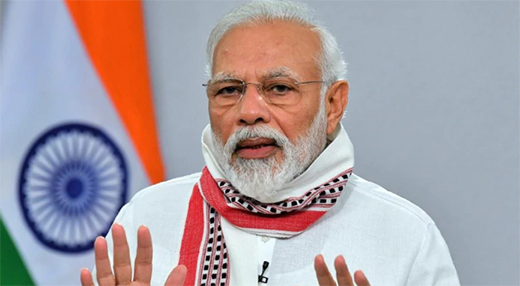 "The package will focus on land, labour, liquidity and law; it will help small business, labourers, farmers," the PM said.

Speaking about the coronavirus pandemic, PM Modi said: "A virus has ravaged the world, we have never seen or heard a crisis like this."

The only way for India to triumph over the crisis was to "strengthen our resolve so that our resolve is even greater than this crisis."

He said India must realize its potential as the lead player in the 21st century by focusing on its self-reliance.

He listed what he called five pillars for self-reliance: "Economy with potential for quantum jump, infrastructure, technology-driven system, demography and an intelligence-driven supply system."
Here are the key takeaways from PM Modi's speech:

1) When the crisis started then not even a single PPE kit was manufactured in India, only a few N95 masks were available. Today 2 Lakh PPE kits and 2 lakh N95 masks are manufactured in India.

2) India's self-reliance will be based on five pillars -- economy, infrastructure, technology-driven system, vibrant demography and supply-demand chain.

3) PM Modi announced a special economic package that will amount to Rs 20 lakh crore which is nearly 10% of India's GDP. Beginning Wednesday, Finance Minister Nirmala Sitharaman would announce details of the special economic package, PM said.

4) "We need to take this to a higher level. Reforms such as these should be in the entire supply chain of agriculture. This will also ensure that agriculture remains untouched in pandemic situations like this even in the future," PM said.

5) "Corona has made us understand the importance of local manufacturing, local markets & local supply chains. It's not just our need, but also our responsibility. It helped us when everything else was closed down to ensure essential services were continued," PM stated.

6) PM urged people to be 'vocal for local' in this hour of crisis. He asked the people of India to buy more local products.

7) Modi also stated that lockdown 4.0 would be different with new rules.


Write Comment
|

E-Mail
|
Facebook
|

Twitter
|

Print