New twist to Mangaluru moral policing : Girl says 'victim' had harassed her
Mangalore Today News Network
Mangaluru, Aug 25, 2015 : In a new twist to the moral policing incident at Attavar in the city on August 24, Monday which has hit national headlines, the girl has now come out in the open to state that the victim had actually 'harassed and misbehaved' with her. She also claimed that the men who attacked the victim had 'rescued' her.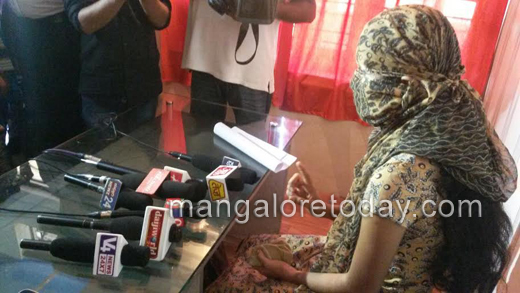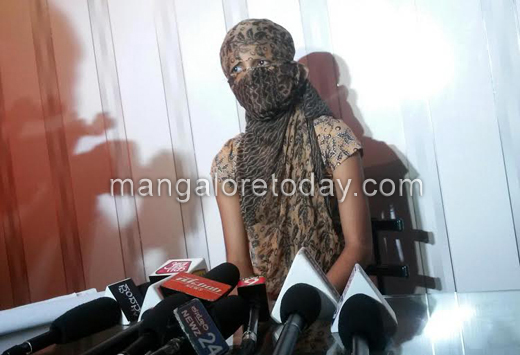 Here it may be worth mentioning that a Muslim youth was tied to a pole, stripped and thrashed by right wing activists after he was allegedly spotted with the girl who belonged to another community.

The girl who spoke to reporters on August 25, Tuesday claimed that on Monday the youth had tried to pull her into his car when she was rescued.

She said she worked in a supermarket at Attavar and was a staff in the Operations Department and that the victim was her colleague. She also claimed that the youth had asked her cell phone number and had started sending messages to her to which she used to reply as he was her senior. " I feared that he may trouble me in my work if I did not reply as I am from a poor family and had got the job with much difficulty,'she claimed.

She also claimed that the youth had misbehaved with her once while he gave a drop to her till Nandigudde bus stop. "Since this incident he used to call me everytime he saw me saying he would give money," she said adding "On August 24 at 5 pm, he sent a message offering to drop me and I agreed as I was under work pressure. He was outside waiting and as I approached him he forced me into the car when I raised a cry and people around rescued me," the girl claimed and added that she also intimated her brother about the incident.

She also stated that she has lodged a complaint against the youth urging for strict action. She further also said that the youth blackmailed her stating he had a video of her sitting in his car.

At the same time she claimed she was unaware that the youth was tied to a pole and beaten up and also that those who thrashed him were right wing activists. "He deserved a beating," she further said and also sought police protection stating she feared her life.

To reports that she had asked Rs 2000 from the youth, the girl refuted the claims and said she was not that poor to seek money from others.
The earlier Story:

A Muslim man was stripped, tied to a pole and flogged for more than an hour at a crowded marketplace in the communally polarised coastal town of Mangalore while he was trying to help a Hindu woman colleague who had sought a loan.

Policemen reached the spot after local cable television channels began beaming visuals of the man on Monday and arrested 14 of around 30 suspected Bajrang Dal activists who were taking turns to flog him.

The man is the manager of an accessories store in Mangalore and the woman works in the same store as a salesgirl.

According to the man's complaint to police, the woman had asked him for a loan of Rs. 2,000. They were on their way to an ATM so that he could withdraw cash when a gang of men armed with knives and staves accosted them, the man said.

The woman escaped without much harm but she too was slapped for trying to come to her colleague's defence.

Several brazen attacks involving groups such as the Bajrang Dal, Sri Rama Sene, Hindu Jagarana Vedike and the Islamist group, Popular Front of India, have been reported in the coastal towns of Mangalore, Udupi, Honnavar, Bhatkal and Karwar over the past decade.

Civil society activists blamed the BJP government that was in power in Karnataka from 2008 to 2013 for encouraging Hindutva groups to commit such crimes. However, statistics show the attacks did not reduce even after the Congress came to power.


Write Comment
|

E-Mail
|
Facebook
|

Twitter
|

Print