Mangaluru: Konkan rail Monsoon timetable effective June 10
Mangalore Today News Network
Mangaluru, April 22, 2015 : A news reports states, Konkan Railway Corporation Ltd, monsoon timetable on Konkan routes will be effective from June 10 to October 31. The monsoon timetable aims to run trains punctually during the monsoon and to avoid inconvenience to passengers. Passengers who have been issued journey tickets prior to the announcement of the monsoon timetable should recheck the train timings, as the departure of some trains are changed.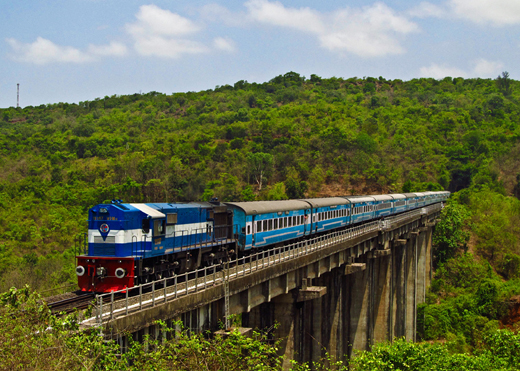 Note, the departure time of following trains is changed at the originating stations : The new time is given with Current departure time in brackets:

Train No. 11004 Sawantwadi-Dadar Rajya Rani Express 5.30pm (6.10pm); Train No.12617 Ernakulam-Nizamuddin Mangala Express 10.45am (1.05pm); Train No.12052 Madgaon-Dadar Janashatabdi Express 12pm (2.30pm); Train No.12620 Mangaluru-LTT Matsyagandha Express 12.50pm (2.40pm); Train No.10112 Madgaon-CSTM Konkan Kanya Express 4.45pm (6p m); Train No. 22907 Madgaon-Hapa Express 7.15am (10.40am); Train No.12741 Vasco-Patna Express 6pm (7.05pm); Train No.10215 Madgaon-Ernakulam Express 9pm (9.30pm); Train No.12449 Madgaon-Chandigarh Goa Sampark Kranti Express 12.25pm (11.20am); Train No.12134 Mangaluru Junction-CSTM Express 4.45pm (2pm); Train No.16524 Karwar-Yesvanthpur Express 2.55pm (2.40pm); 50101 Ratnagir i Madgaon passenger 2.20am (3.20am); Train No.50106 Sawantwadi-Diva passenger 8.35am (8.25am); Train No.56641 Madgaon-Mangaluru passenger 2pm (1.50pm); and Train No.50102 Madgaon-Ratnagiri passenger 8pm (7.40pm). For further information the railway help desk can be contacted.



Write Comment
|

E-Mail
|
Facebook
|

Twitter
|

Print