Mangaluru Bandh: City Police Get Tough, Issue Notice to 44 Persons
Mangalore Today News Network
Mangaluru, Feb 23, 2017 :The city Police commissioner, M. Chandra Sekhar has today issued legal notice to 44 persons belonging to various Sangh Parivar outfits for calling a City Bundh on February 25 to protest the visit of Kerala Chief Minister Pinarayi Vijayan. He has issued the notice as per section 107 of IPC.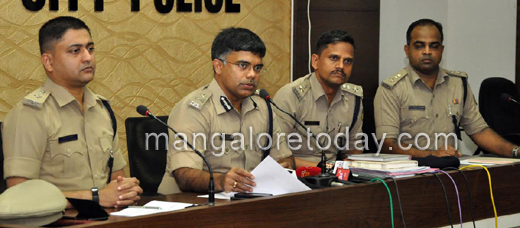 Announcing this at a joint press meet with district superintendent of police Bhushan G Borase today Chandra Sekhar said: "No one has the right to call for a Bandh as the Supreme Court has given clear directives that no one can agitate on the streets or call for a bandh. Hence we have issued notices to 44 persons who have called for a bandh in the district and asked for clarifications about the type of bandh they plan to have for Bandh."

The police commissioner added that the police department would not allow anyone to disrupt normal life in the city. "All security measures will be taken during the visit of Kerala Chief Minister Pinarayi Vijayan to Mangaluru. We will also provide all the security to the organizers of the programme on February 25," he said. "If anyone indulges in anti-social activities, we will take action against them."
It may be recalled here that the Supreme Court of India has banned Bandh of any sort which disrupts public and commercial activities.


Additional police force deployed in the district:


Earlier this morning the Ullal office of CPI (M) office was found to be ransacked and vandalized during the night. Alarmed by the belligerent turn of affairs, police have beefed up security in and around the city. It is learned that more than 2000 police and 20 KSRP platoons will arrive to the district to maintain law and order in the city. This is apart from 1500 police personnel of the district, who have already been deployed.

'No Billava Support for Bandh'

Meanwhile Rakshith Suvarna Kaikamba, a leader of D. K. District Billava Union has called on Billava community to render full support to the visiting Kerala Chief Minister Pinarayi Vijayan, who he said is the only Billava community chief minister in the country. "Pinarayi Vijayan represents backward and socially disadvantaged sections of society. Bandh call given by Sangh Parivar organizations goes against the spirit of social justice," he said.

He further stated that Sangh Parivar has traditionally always opposed measures for uplift of backward communities. He held them responsible for misleading Billava youth and using them to fight its battles. "Many Billava youngsters have been killed and several more have been pushed into jail because of associating with Sangh Parivar outfits, he asserted.
'Kerala RSS Chief All Praise for Pinarayi Vijayan'

Even as the local Sangh Parivar units are busy shedding their sweat over the proposed visit of Pinarayi Vijayan to the city on February 25, an article dated Feb 17, 2017 in Scroll.com has quoted Kerala State RSS Chief profusely praising the Kerala Chief Minister.

The Scroll.com report filed by TA Ameerudheen states: "The Rashtriya Swayamsevak Sangh for the first time on Tuesday hailed Communist Party of India (Marxist) leader and Kerala Chief Minister Pinarayi Vijayan for making an effort to end the political violence in Kannur district, which has witnessed a string of murders of cadres from both sides.

The Sangh's prantha karyavahak (state chief), P Gopalan Kutty Master, told Scroll.in that he was impressed with the way Vijayan had spoken with him over telephone "nine times to ensure our participation in peace meetings that were held in Thiruvananthapuram on Monday and Kannur on Tuesday". He said that it showed the chief minister's "commitment to resolve the crisis"."
Pinarayi Vijayan is arriving in the city to participate in a 'communal harmony rally' organized by CPI(M) Mangaluru unit at Nehru Maidan. The local Sangh Parivar are enraged over the recent spate of political murders of RSS cadres in Kannur district of Kerala state. This is a fallout of the violent rivalry between RSS and Marxist cadres in Kerala state which has led to mutual revenge annihilation with revenge killings from time to time. As the state presently has a Marxist government in power, Sangh Parivar is holding the Pinarayi Vijayan personally responsible for the crimes, though he is not implicated in any of the incidents taking place at Kannur.

It is becoming quite apparent that the protest is a pointless gambit of the Sangh Parivar outfits to regain its waning relevance in the district.



Write Comment
|

E-Mail
|
Facebook
|

Twitter
|

Print