Kisan Sangha bats for revival of the sugar factory at Brahmavar
Mangalore Today News Network
Udupi, April 28, 2015: The district unit of Bharatiya Kisan Sangha has urged the State government to take immediate steps to rejuvenate the ailing Brahmavar Cooperative Sugar Factory.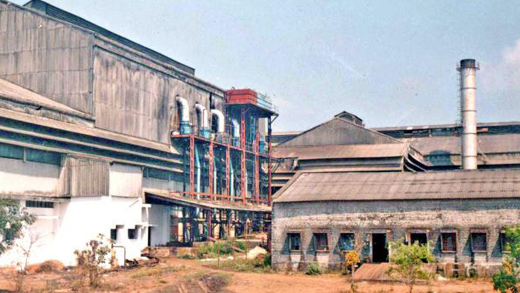 The factory, which started functioning in 1985, closed down in 2004 amid mounting losses. The factory was started on the premise that the Varahi Irrigation Project, for which the foundation stone (along with that of the factory) was laid in 1980, would provide water for irrigation, which in turn would help in sugarcane cultivation. But the snail's pace progress of the Varahi Irrigation Project delayed it by 35 years.

In a release issued here, B.V. Poojary, president of district unit of Sangha, said that water from the Varahi Irrigation Project had reached up to 25 km this month. The factory has 110 acres on National Highway 66, with a market value estimated at Rs. 250 crore. The factory owed about Rs. 75 crore to the government and other financial institutions.

Since the machinery at the factory was old, the government should install new machinery in its place, he said. The government could go in for co-generation, ethanol production and fodder production units at the premises of the factory. All this might require about Rs. 150 crore.

When the government had spent Rs. 700 crore for the Varahi Irrigation Project until now, it would not be difficult for it to spend another Rs. 150 crore for rejuvenating the factory, Mr. Poojary said.

There were rumours that the Karnataka Industrial Area Development Board would acquire the factory land for establishing industries. Under no circumstances should the land be given to the industries, he said.
The government should think about the advantages of rejuvenating the factory. The new factory unit would be able to crush 2.5 lakh tonnes of sugarcane. The farmers could grow a minimum of 25 tonnes of sugarcane on one acre of land. This meant that 10,000 acres (4,000 hectares) of land was required for growing sugarcane.

The Sangha had submitted self declaration forms from 1,800 farmers who had assured to grow sugarcane in 3,500 acres for the factory. The Varahi project was expected to provide irrigation facilities to 7,500 acres of land this year. Next year, the project was expected to extend irrigation facilities to additional 5,600 hectares (14,000 acres). If farmers grew sugarcane in 6,500 acres, the requirement for the factory could be fulfilled from Udupi district alone.

Since sugarcane was less labour-intensive, the farmers from Dakshina Kannada and Uttara Kannada districts too might grow cane after the factory's revival, the release added.
Courtesy: The Hindu

Write Comment
|

E-Mail
|
Facebook
|

Twitter
|

Print