First sky walk project yet to take off in city
Mangalore Today News Network
Mangaluru, Mar 14, 2017: Foundation stone for city's first sky walk project was a big noise, yet even after months no progress has been made. The work on the project is bogged down due to funding problems, promises of the big wigs have not been true. The sky walk is a project of MCC Mangaluru City Corporation and Coastal Development Authority (CDA), which will come up near Town Hall/mini vidhanasowda for free flow of traffic, which is increasingly impeded on account of pedestrians crossing the four-lane road.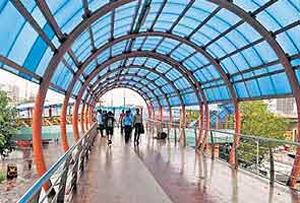 The original project cost as mooted by CDA was Rs 86 lakh. But Mangaluru City South MLA JR Lobo, after looking at the state of abandoned sky walks in Bengaluru due to its unfriendly nature, proposed that escalators be added on both sides like in New Delhi.

Revising the estimates for the project. Rajendra Kalbai, project director, DK Nirmithi Kendra, which will execute the project, said, "The first estimate without escalators was Rs 85 lakh. The revision to add two escalators meant another Rs 70 lakh taking the project cost to Rs 1.56 crore, including fabrication costs. Now we are awaiting administrative sanction from CDA since they have indicated that they have funds only for building sky walk without escalators. The MCC too will also pitch in with five per cent of the project cost." Rajendra said that escalators will be of exterior grade, which means that they have anti-rust properties plus they will weather Coastal condition better than ordinary escalators. Though the sky walk will be provided with adequate cover to shield it from rain and sun, being exposed to extreme elements means that the escalators have to be extra durable.

The sky walk start point will be inside the taluk panchayat office premises and will end inside Gandhi Park. Rajendra noted that there will be steps provided to the sky walk to enable public move across in case of power failure.


Pradeep D'Souza, secretary, CDA said that the government had given approval for Rs 82 lakh - Rs 78 lakh from CDA and Rs 4 lakh from the MCC. Now as the estimate has been revised, the CDA has sent requisition for additional funds.

Write Comment
|

E-Mail
|
Facebook
|

Twitter
|

Print