Final fifth phase of Swacchata Abhiyan : RKM to launch on Dec 2
Mangalore Today News Network
Mangaluru, Nov 30, 2018: The fifth and final phase of Swacchata Abhiyan by Ramakrishna Mission, Mangaluru (RKM), will be ceremonially launched at on December 2. The launchceremony will be held on the Ramakrishna Mutt premises at Mangaladevi, Mangaluru, at 8 am.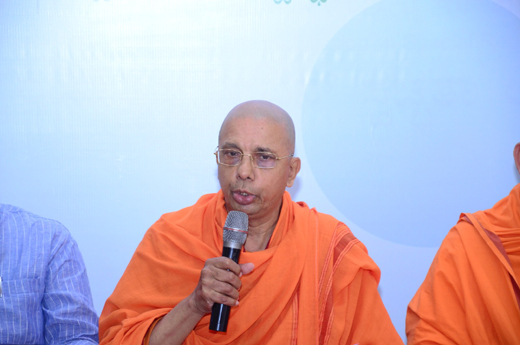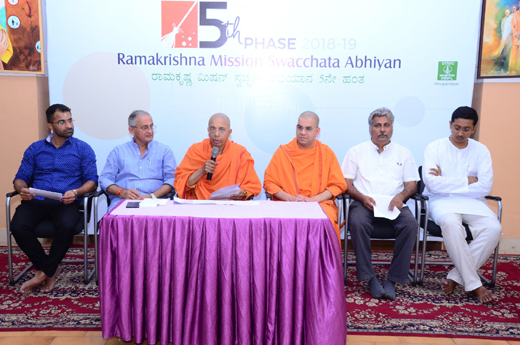 Swami Jitakamananda, secretary of the Ramakrishna Mission Mangaluru unit, who addressed reporters at the Ashrama November 29, Thursday, said that Shivapremananda, secretary of the Ramakrishna Ashrama, Jalpaiguri unit, will launch the campaign. Nitte Education Trust chairman N Vinay Hegde will be the chief guest.

"DK DC Sasikanth Senthil will flag off the voluntary cleanliness drive. MRPL Managing Director Venkatesh M, Mangaluru South MLA D Vedavyas Kamath and former MLC Capt Ganesh Karnik will be present," he added.

Jitakamananda said the fifth phase will continue till October 2, 2019, which coincides with the conclusion of the 150th birth anniversary of Mahatma Gandhi.

A seminar on Swacch Soch will be launched on the Ramakrishna Mission premises at 9 am on December 4 by B H V Prasad, general manager of MRPL Group. Nitte University Pro Chancellor Vishal Hegde will be chief guest, said Jitakamananda.

"The inaugural function will be followed by two interactive sessions on 'Transforming Self to Transform Society' by the Vivekananda Institute of Human Excellence, Hyderabad, director Swami Bodhamayananda, and corporate trainer Dr Vivek Modi on 'Practicality of Purity in Modern Times'," the seer added.

Five Pillars of the 5th final phase : Swami Ekagamyananda said, "Swaccha Samparka Abhiyan, Swacch Mangaluru for Swacch Bharath Shramadan, Swacch Manas, Swacch Soch and Swacch Gram Abhiyan are the five dimesions of the fifth phase of the campaign."

He explained that the Mangaluru City Corporation Mayor K Bhaskar Moily will launch the Swacchata Samparka Abhiyan on December 2. "Under this campaign, 500 groups comprising volunteers will conduct 300 Swacchata awareness campaigns in different parts of the city every evening for 90 minutes. Demonstration on pot compost will be presented as a part of the campaign. There are also plans to distribute 5,000 pot compost units to interested citizens," he added.

"Under 'Swacch Mangaluru for Swacch Bharath Shramadan', about three hours of Shramadan will be carried out for the next 44 weeks in different parts of the city. About 200 volunteers will take part. 'Swacch Manas' is directed towards creating awareness among students in 100 schools for five months starting June 2019 and 100 students each school will be trained to be 'Swacch Ambassadors'.

"The 'Swacch Soch' seminars and workshops will be conducted in 50 colleges of Dakshina Kannada and Udupi districts between December 2018 and February 2019. The resource persons will interact with the youth. University-level and district-level seminars and paper presentations will be held in this connection," said Ekagamyananda.

In Udupi too : Speaking further Ekagamyananda said, "The 'Swacch Gram Abhiyan' will be carried out this time in Udupi district as well. During the last phase, the campaign was carried out in 100 villages of Dakshina Kannada. This time, the campaign will be expanded to 100 more villages. Also, 2,000 Abhiyans will be carried out in 200 villages of Dakshina Kannada and Udupi with the support and cooperation of the Zilla Panchayats and the district administrations. About 100 people from each village will be selected and one of them will be made convener to coordinate the cleanliness drives once in a month for the next 10 month starting from December 2018. Ramakrishna Mission will provide cleaning implements."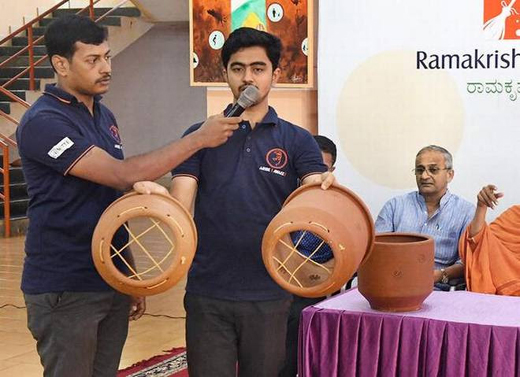 An explanation on the distribution and use of 5,000 pot compost units in the city during the 10-month weekly five-day Swacchata Abhiyan to be launched on Sunday, by Ramakrishna Mission and civic groups was a highlight.

According to Swami Ekagamyananda, co-ordinator, five-year Swacch Mangaluru Abhiyan of the mission; the units will be given to interested persons at a concessional rate of Rs. 500 per unit through sponsorship, though each cost Rs. 2,000. There will be a demonstration during the weekly five-day programme which will be held from 6 p.m. to 7.30 p.m., except on Sundays and Tuesdays. He said that 400 units have been distributed in the city so far and all of the households are now using their kitchen waste for making compost. The Ramakrishna Mutt has got the compost tested from Mangalore Chemicals and Fertilizers Ltd. for quality.

Swami Ekagamyananda said that pot compost method is now the best available method to reduce waste at source. If all adopted this method, the Mangaluru City Corporation will be left with the task of collecting only dry waste, a majority of which can be re-cycled.

Sachin Shetty, who demonstrated the making of post compost, said that all kitchen waste, including non-vegetarian residues, lime and onion pieces, can be used in making pot compost.

Write Comment
|

E-Mail
|
Facebook
|

Twitter
|

Print