Dalits demand scrapping panel led by MLA
Mangalore Today News Network
Manipal , July 17,2015: At the interaction programme held by Dr B R Ambedkar Development Corporation Chairperson Mallajamma along with the Dalit community representative Vijayalaxmi alleged that political interference has meted out injustice to most of the beneficiaries. The others who were present on the occasion also demanded that the MLA headed committee that decides over the beneficiaries should be scrapped.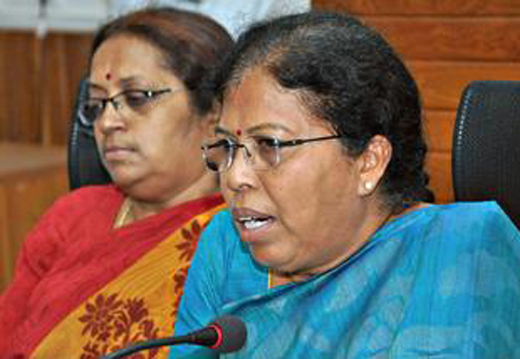 The political influence is detrimental for the development, as it always adversely affects the progress of the poor man. Dalit community unanimously demanded that the MLA headed selection committee for various beneficiary programmes earmarked for ST community should be scrapped, instead beneficiaries list should be decided at official level.

Among other issues raised were irregularities and illegal activities taking place at the district and taluk Ambedkar Bhavans.
The structures lack security guards and are being used for illegal activities. CMC Commissioner Manjunathayya said the litigation concerning the district Ambedkar Bhavan and the adjacent land is in High Court. The owner of the liquor shop which was situated in the land prior to the construction of the structure has brought the stay order against any development initiatives taking place in the compound. He said Rs 21 lakh is earmarked for the repair and maintenance of the building. Mallajamma said any attempt to harm the sentiments of Dalits would not be tolerated.

Fishing boats: Dalit leader Sunder Mastar demanded that fisheries should be considered as the means of self-employment for the Dalit community. The youths should be given 50 fishing boats per year. Financial assistance should be offered for the community to set up iceplants and purchase the insulated trucks. He demanded the construction of dormitories for students in the district and the ST community people. The dairy farming and poultry farming should be self employment projects in rural areas. He demanded that under Ganga Kalyana Yojane, the beneficiary who has less than one acre of land should also be considered. The ST taxi drivers who are offered Indica cars should be given Innova.

Manjunath Giliyaru said the land ownership programme in Udupi is a lapse. He said the rules in the present system should be relaxed and Rs 10 lakh should be given to purchase one acre of land, he added.

The leaders also demanded that the youths who are into the taxi driving should be given badges even if they are unable to complete SSLC. Zero percent interest loans up to five lakh for youths to take up self-employment projects was a demand. The target for various programmes initiated through Corporation should be increased. They alleged that the Lead bank is refusing loan request by the Dalit community.

Write Comment
|

E-Mail
|
Facebook
|

Twitter
|

Print