Budget 2020: 16-Point plan for farmers, a Budget to boost income and spending power
Manglore Today News Network
New Delhi, Feb 01, 2020: Presenting her second Budget in eight months, Finance Minister Niramala Sitharaman today said that this Budget will boost income and purchasing power of Indians. She said that the government has plans to follow a 16-point action plan to help the farmers and rural growth. She also said that the current Budget aims to meet the hopes and aspirations of all sections of the society.
Promises 100 New Airports by 2022, More High-Speed Trains; Chennai-Bangalore E-Way Soon

A Chennai-Bangalore expressway will come up soon and 100 new airports will be built by 2022, FM Nirmala Sitharaman says in her budget speech. The FM says this budget is meant to boost the income and spending power of people. FM said the Budget 2020 is broadly divided into three major themes - aspirational India, economic development and building a caring society that is humane.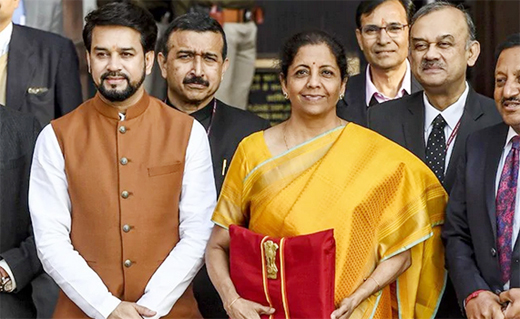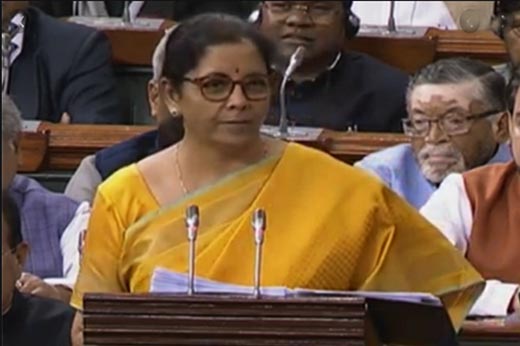 Keep tracking this space for all the key highlights from Budget 2020:

* This is the Budget to boost income and purchasing power of Indians, says Sitharaman.

* This Budget is woven around three prominent themes: Aspirational India; Economic Development for All; A Caring Society

* Aspirational India: Agriculture-- 16 action points to aid farmers
* Agriculture market needs to be liberalised; govt proposes to handhold farmers, says FM

* Comprehensive measures for 100 water-stressed districts being proposed

* Govt will help 20 lakh farmers for setting up solar pumps.

* Farm market will to be liberalized.

*PM Kusum scheme will be expanded to 20 lakh farmers.

* Change in incentive scheme for chemical fertilisers. We will encourage balanced use of all fertilizers, a necessary step to change the incentive regime which encourages excessive use of chemical fertilizer

* Will help 15 lakh farmers to set up solar sets.

* Krishi udan scheme for agri exports on international and national routes. This will also improve improve value realization in North East and tribal districts.

* Railways will set up Kisan Rail through PPP arrangement, for transportation of perishable goods.

* For better marketing and export, supporting states will focus on one product for one district, so that high focus is given at district level for horticulture to gain momentum

* Zero Budget farming focus of the government.

* Viability gap funding to be provided for setting up warehouses.

* Financing on Negotiable Warehousing Receipts to be integrated with e- National Agricultural Market

* Rs 2.83 lakh crore allocated to agriculture and irrigation

* Rs 1.23 for Rural development and Panchayti Raj

* Agri credit target raised to Rs 15 lakh crore from Rs 12 lakh crore.

* Milk processing capacity to be doubled to 108 tonne from 53 tonne by 2025.

* NABARD Refinancing Scheme to be further expanded.

* MGNREGS to be used to develop fodder farm.

* Will further expand on SHGs for alleviation of poverty.

* Viability gap funding window to be set up to cover hospitals, with priority given to aspirational districts that don't have hospitals empanelled under Ayushman Bharat.

Fisheries: Framework for development, management and conservation of marine fishery resources to be put in place.
* Fish production to be raised to 200 lakh tonnes by 2022-23

*Youth and fishery extension work to be enabled by rural youth as Sagar Mitras, forming 500 fish farmer producing organizations.

Sanitation:
* Rs 3.6 lakh crore allocated to water sanitation; Rs 12,300 crore for Swachh Bharat.

* Our government is committed to Open Defecation Free country, in order to sustain ODF behaviour and to ensure no one is left behind.

Education:
* Urban local bodies to provide internships for young engineers for a period of up to one year.

* External commercial borrowings and FDI to be leveraged to improve the education system.

* New Education Policy to be announced soon

Other announcements:

* Proliferation of technologies such as analytics, machine learning, Artificial Intelligence, bioinformatics and number of people in productive age group at its highest, point out two cross-cutting developments.

* Sitharaman cites a poem -- Pyara Watan.

* Budget aims to meet hopes and aspirations of all the sections of the society.

* Govt has taken several steps to formalisation of economy.

* Govt wants to improve the life of the people through Rs 100 lakh crore infrastructure pipeline projects.

*FM terms GST as historic structural reform; says it integrated country economically

* GST has resulted in efficiency gains in transport and logistics sector, inspector raj has vanished, it has benefitted MSME Consumers who have got a annual benefit of Rs 1 lakh crore by GST.

* 6 million new taxpayers have been added.

* Average household now saves nearly 4% more on the monthly basis after implementation of GST.

* Govt says aim is to achieve seamless delivery of services through digital governance.

* GST resulted in Rs 1 lakh crore gains to consumers, removed inspector raj and helped transport sector.

* India uplifted 271 million people out of poverty.

* India is now 5th largest economy in world.Central Govt debt reduced to 48.7% of GDP from 52.2 per cent in March 2014


* We shall strive to bring ease of living for every citizen.

* 7.4% growth surpassed in 2014-19 with average inflation of 4.5%.

*During 2014-19, govt brought paradigm shift in governance.

* Fundamentals of economy strong, inflation well contained, banks cleaned up accumulated loans.

*Finance Minister lists out welfare schemes like affordable housing scheme, DBT and Ayushman Bharat

Courtesy:ET


Write Comment
|

E-Mail
|
Facebook
|

Twitter
|

Print