Cyclone rips through TN
Mangalore Today News Network
Chennai, Dec 13, 2016 : A cyclonic storm swept the Tamil Nadu coast on Monday, leaving a trail of destruction and claiming at least four lives.Heavy rain battered Chennai, Kancheepuram, Thiruvallur and Cuddalore districts in Tamil Nadu, and Nellore and Chittoor districts in Andhra Pradesh. Hundreds of houses were damaged when the cyclone, named Vardah, hit the coast between 2 pm and 6 pm.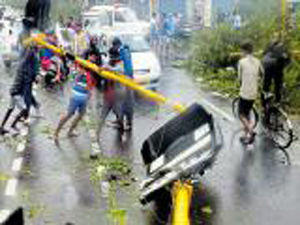 The cyclone was described as the most intense since 1994, and weather officials said the winds swept the coast at a furious 100 km an hour.

Thousands of people living in low-lying areas were evacuated to camps run by the government. In Chennai, hundreds of trees were uprooted and traffic came to a standstill. Power and phone lines lay tangled on the streets, hampering relief efforts. A central disaster response team was deployed in the worst-affected areas.

A government release said about 250 trees and 40 electric poles had fallen. The damage could not be assessed immediately as the relief teams were primarily engaged in rescuing people.

1 dead in AP

Cyclonic storm Vardah battered Nellore, Chittoor, YSR Kadapa and Prakasam districts of Andhra Pradesh.

An uprooted electric pole claimed a man's life in Aligirivaripalem near Chittoor. Power supply to several villages was disrupted in the Nellore area.

According to the Andhra Pradesh Disaster Management Authority, about 12,000 people living along the Nellore coast have been evacuated.

In Tirumala, the main entrance of the temple was inundated. Fire tenders were called in to pump out rain water.

In Chittoor, standing crops of sugarcane and mango were damaged in hundreds of acres.

Travel update

Airline, train and bus services have remained suspended in Chennai and parts of Tamil Nadu and Andhra Pradesh since Monday morning.
Several domestic and international flights were cancelled.The South Central Railway and the APSRTC cancelled services on the Vijayawada-Sullurpeta–Chennai route. The Vijayawada-Chennai-Vijayawada Pinakini Express has been diverted via Renigunta and Arrakkonam.

Some other express trains on the Chennai route have also been diverted via Arrakkonam. Many trains bound for the northern states are stranded.

The South Western Railway has cancelled and diverted seven trains on Monday and
Tuesday.

Weather officials expect the rain to continue through Tuesday. People remained indoors after the Tamil Nadu government issued flood warnings.

Two fishermen were reported missing off the Andhra Pradesh coast in Kakinada. The Coast Guard has deployed a ship for search and rescue operations.

"After 1994, this is the first very severe cyclonic storm to hit the Chennai coast," a senior Met official said. A Home Ministry spokesperson said in Delhi that four people were killed in the storm in Tamil Nadu.

Home Minister Rajnath Singh spoke to the chief ministers of Tamil Nadu and Andhra Pradesh and promised all help.

Several flights diverted to city

Several flights bound for Chennai were diverted to Bengaluru on Monday as the runway was flooded. Sixteen of the flights landed at 8 pm in the city, reports DHNS.

Rain in south interior K'taka

Under the influence of cyclone Vardah, Chikkaballapur, Kolar, Ramanagaram, Bengaluru Urban and Rural districts will receive rain in the next couple of days, bringing succour to people affected by a failed monsoon.
Courtesy: DHNS