Sachin Tendulkarís profile: The legend retires
mangaloretoday.com
Sachin Ramesh Tendulkar famously known as Little Master or Master Blaster is one of the greatest cricketer to have ever played the game. He is the leading run scorer and century maker in both formats of the game.

Tendulkar is the only player to be in top 10 ICC Batsmen ranking for 10 years in Tests and in 2002, Wisden ranked Sachin as second greatest Test batsman of all time next only to legendary Sir Donald Bradman and the second greatest ODI batsman behind West Indies great Sir Vivian Richards.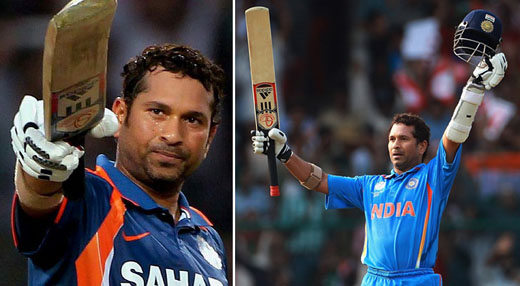 A normal person can be a specialist in one thing he does the best but Sachin is one man in this world who defies these laws and is a specialist in everything he does. Whether it is batting, bowling or fielding, this man will give everything to help India win. Sachin Tendulkar is one person capable of bringing his country to a standstill. Whenever Sachin strides into the middle, the crowd goes berserk, TRP ratings and TV volume go through the roof, tension levels hit all time high and expectations increase to unprecedented levels.

From a child to an 80-year-old man, all have their sights set on Sachin. If one has to describe Sachin Tendulkar as a player, he would soon run out of adjectives; words like awesome, brilliant, magnificent are certain to cross your mind, though. He is a genius, with God given talent no doubt.

He stands at the crease, with such wonderful balance and poise and at the same time intimidating the bowlers. His footwork is near perfect and he is the nearest thing to Bradman there's ever been.

At 5'5, Tendulkar was not the most colossal player to stride on to the field but he bows out as a giant, who ruled cricket for 24 years and gave his legion of fans mesmerizing and emotionally overwhelming memories. With a mountain of runs, Tendulkar's retirement creates a void so big that one can safely say cricket would never be the same again. His journey started way back in 1989 at the tender age of 16.

A disarming smile, curly locks, resolute eyes and abundant talent, this was Sachin who first stepped on to Test cricket against a fiery Pakistani bowling attack boasting of that deadly combination of Imran Khan, Wasim Akram and Waqar Younis. Tendulkar has niched out a career out of innovation and adaptability. No bowler has single handedly dominated the master.

In his glorified two decade journey, Sachin has won almost every award associated with cricket. He also owns the highest number of Man-of-the-Match (62) and Man-of-the-Series awards (26) along with 50,000 in every format of the game. Sachin got the better of every bowling attack. With wickets falling around, he always decided to take the fight to the opposition and single handedly won India several matches. Sachin has been a part six World Cups, a record jointly held by Pakistan's Javed Miandad.

He has scored more than 2000 runs in the competition which is the highest by any batsman. The talent and genius of Sachin was best summed up by Bradman when he said Tendulkar's batting reminded him of his own. Tendulkar was the first cricketer to have scored a double century in ODI cricket, the feet he reached at Gwalior on February 25th 2010 against South Africa, at 37 years of age. During the later half of the '90s,

Tendulkar dominated both ODI and Test cricket at will producing memorable innings all across the globe, including the famous 'Desert Storm' against Australia which are arguably two of the best ODI knocks ever played. Sachin's tremendous performances soon elevated him to the most challenging task of captaining the Indian side. But sadly, the pressure of Captaincy took it's toll on Sachin as his batting form dipped and many criticized Sachin for not leading from the front.

Much has been said about the characteristics of a great batsman by many pundits over the year. But when Tendulkar produced what many believe "the most awe-inspiring innings" at Sydney in January 2004 against the might Aussies, he redifined greatness. After being repeatedly dismissed playing shots on the off-side, Tendulkar did not attempt even a single off-side stroke until he was a good 150 not out and went to score 241 in that innings.

More recently, he was woefully out of form during India's Test and ODI whitewash at the hands of England last year and carried the weight of expectations to what turned out to be a horror tour of Australia. But eventually, the best batsman of the modern era dug in deep and ensured that he went out on his own terms. His impact resonated much beyond the cricket field as he accomplished a rare feat by becoming a Rajya Sabha member last year.

"Beneath the helmet, under that unruly curly hair, inside the cranium, there is something we don't know, something beyond scientific measure. Something that allows him to soar, to roam a territory of sport that, forget us, even those who are gifted enough to play alongside him cannot even fathom. When he goes out to bat, people switch on their television sets and switch off their lives- BBC Sports, on Sachin Tendulkar."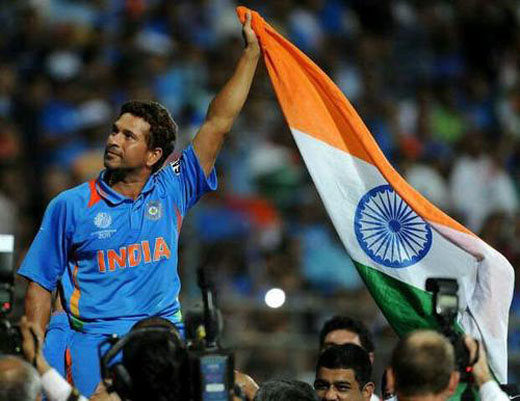 Achievements of Sachin Tendulkar:

1994: Sandeepreddy Award Recipient for achievements in cricket

1997: Tendulkar was one of the five cricketers selected as Wisden Cricketer of the Year 1997/98:

India's highest sporting honour - Rajiv Gandhi Khel Ratna

1999: Padma Shri - India's fourth highest civilian award 2008: Padma Vibhushan - India's second highest civilian award

2010: ICC Cricketer of the year - Highest award in the ICC listings

2010: LG People's Choice Award ICC World Test XI: 2009, 2010, 2011 ICC World ODI XI: 2004, 2007, 2010 Wisden Leading Cricketer in the World 1997, 2010, 2012


"I look forward to playing my
200th Test Match on home soil, as I call it a day"

Sachin Tendulkar