Tanvi - Surfing Girl
Mangalore Today News Network
Mangaluru, Dec 20, 2016: Surfing is synonymous to adventure. For 16 year old Tanvi, surfing is a passion that has helped her soar to greater heights at a tender age. She now has the credit of being the first girl from Mangaluru who took part in an international event- the 2016 Fiji ISA World SUP and Paddleboard Champ-ionship. She is also among a few first female surfers of the nation.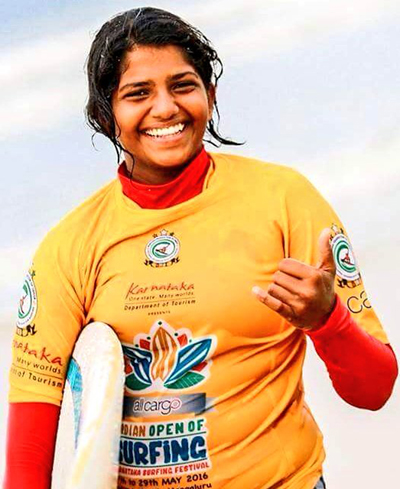 Tanvi who studied at the Delhi Public School, though was introduced to surfing when she was eight she could not pursue her passion for want of encouragement from her parents. Ultimately she began learning surfing when she was 14, thanks to her grandfather who took her to Mantra Surf Club at Mulki. This turned out to be a turning point in Tanvi's life at a time when many thought surfing was not meant for Indian girls. But a determined Tanvi learnt surfing and Stand up Paddling with dedication and at the same time continued her efforts to convince her parents that even girls can shine in Surfing.

The prizes she won speak for themselves about this talent. She has won the first place in 2015 SUP Nationals Covelong Point Surf Classic, 2016 SUP Nationals Manapad Classic Surf and Sail Festival and 2016 SUP Nationals Indian Open Surfing. She has also won the third place in the Surfing Nationals Indian Open of Surfing 2016. Tanvi believes that Surfing and SUP are wonderful sports and wants the society to really stop being judgmental about who can and cannot take part in Surfing. She ardently hopes that more girls would venture into surfing.