Tomorrow, Banks will not swap old notes for new, except for Seniors
Mangalore Today News Network
New Delhi, Nov 18, 2016 : Banks tomorrow will not exchange the old 500 or 1,000 rupee notes for new bills, allowing only senior citizens to make the one-time swap for upto Rs. 2,000. On Sunday, banks will remain shut.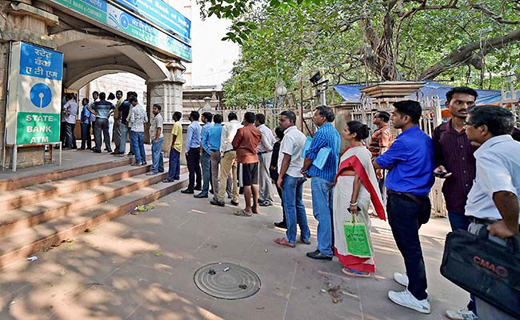 "After this inking and all, we have seen for the last two days now, there is a visibly less rush in the banks. The queues are shorter and we hope things will settle down soon," said Rajiv Rishi, the head of the Indian Banking Association, adding that tomorrow will be used to clear a backlog of work.

Since Prime Minister Narendra Modi's sudden announcement last week outlawing high-denomination notes, banks have been overflowing with customers desperate to get cash. The bills that were cancelled form 86 per cent of the money in circulation.

"No, note exchange stopped for a day. Yet another whimsical decision. Government must explain. Is there currency shortage? Financial emergency," tweeted West Bengal Chief Minister Mamata Banerjee who has attacked the ban on old notes as punishing the poor and wants it reversed, which the government has flatly ruled out.

Sources in the Finance Ministry today denied that there is a discussion on whether to end the offer of providing new notes for old ones. The cap was originally set at Rs. 4,000; it was raised at the start of the week to Rs. 4,500 only to be reduced yesterday to Rs. 2,000.

Banks have been asked to use indelible ink, just like in elections, to ensure people are not exchanging more cash than is permitted.

PM Modi's "demonetization" drive aims at curbing tax evasion, corruption and forgery. He has asked people to bear with temporary inconvenience. "Just give me 50 days," he said in an emotional speech last weekend as he pledged to stop the corrupt from "looting what belongs to the poor."

The government has emphasized that the move had to be abrupt to ensure those hoarding black money did not have time to channel it into assets like property. And though the reform has been generally praised by experts, the government appears to have incorrectly gauged the extent to which people would be left cashless, particularly in rural India.
Courtesy:NDTV

Write Comment
|

E-Mail
|
Facebook
|

Twitter
|

Print