Reliance Jio-Fiber announced, prices start from Rs 700 in India
mangaloretoday.com/ yahoo
Mumbai, Aug 12: The big announcement at the Reliance AGM 2019 on Monday was the launch date of its broadband service and how much it'll cost the consumer.

The company confirmed that from 5 September, 2019, onwards, users will be able to sign up and consume internet on its JioFiber broadband network. It also said that more than 5 lakh households have been using its wired internet service, which promises speeds up to 1Gbps.

The JioFiber ecosystem will offer a fixed line handset, access to a slew of streaming services and open up platforms like multi-player online gaming for a new set of user base. Here's everything you need to know about JioFiber and its complimentary services.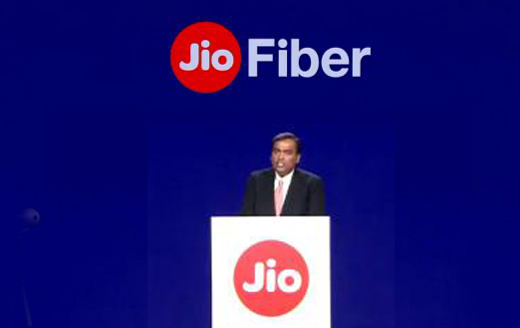 JioFiber Launch Date And Prices

Reliance Jio will commercially launch its Jio Fiber broadband service from 5 September onwards. This date coincides with the company's third anniversary since its launch in 2016.

That's not all, the company announced its broadband service will be priced between Rs 700 and Rs 10,000 per month. There will be a slew of premium, annual plans also which will come with attractive benefits. We still don't know the exact details of how much a customer is expected to pay.

However, it's worth knowing that existing beta testers of JioFiber will most likely get three months of free usage of data (from the date of launch) up to 1,100 GB per month. This was communicated to us by one of the beta testers in the Delhi-NCR region.

The company is likely to offer two different plans to the consumer. As we've seen through the pilot phase, consumers can choose between the 50Mbps and 100Mbps plans. Currently, the telco is offering the router with a security deposit of Rs 2,500 and will offer the 1Gbps plan (for Rs 4,500 deposit) when the network becomes active across the country.
More Goodies from JioFiber? Hell Yes!

Reliance announced that JioFiber annual users will get HD/4K LED TV free with set-top box. We don't know who's the TV partner and which annual plans will offer the bundled devices. Reliance has its own brand of ReConnect LED TVs, which will most likely be part of this offer. Most likely, the plan will be inclusive of monthly cost of owning the LED TV as well as the set-top box.

Speaking of which, JioFiber claims to support zero-latency multi-player online gaming and this will be supported by the set-top box provided by the company.

It's possible that the box could offer on-board storage to install popular games like FIFA 2019, which can then be played with multiple players through the internet. The company's broadband service will be complimented by its own TV streaming service. This will be made available via local cable operators (LCO) and will stream through a 4K set-top box provided by Jio.
Shopping in the New Era

Reliance JioFiber will also cater a host of new services, which includes digital shopping and bringing movies to a user's living room. For this Jio has brought majority stake in an India-based startup called Tesseract which has made the Holoboard headset for an immersive reality experience.

This platform will gradually take shape in the next year or so, and JioFiber users are likely to get special benefits for signing up with the broadband service.




Write Comment
|

E-Mail
|
Facebook
|

Twitter
|

Print