Literature ignoring common man's life is an insult, says writer
Mangalore Today News Network
Mangaluru, Dec 25, 2016: Speaking after inaugurating the two-day 'Jananudi 2016' organised by Abhimatha on Dec 24, Saturday; Marathi writer Sharanakumar Limbale stressed that writings that fail to touch the chord of the common man are worthless. Works that emphasise on human values are great, as compared to those of self-proclaimed mainstream writers. Some writers claim to be mainstream writers and their writings revolve around God and rulers. Such writings are worthless and will not benefit mankind, said the writer.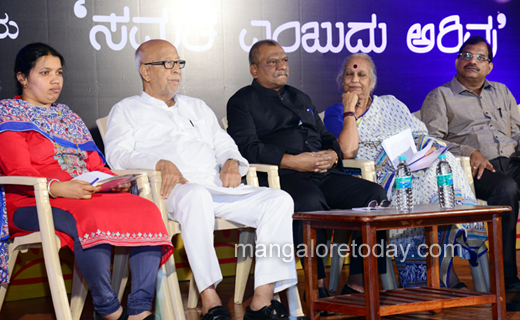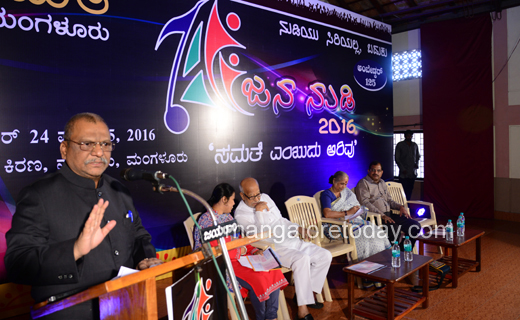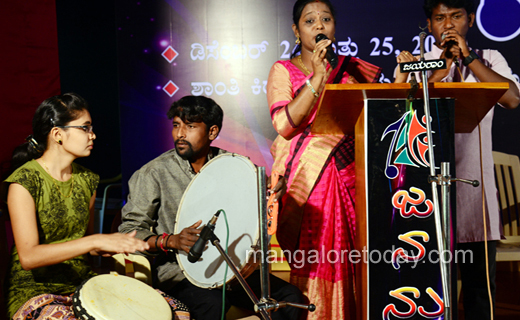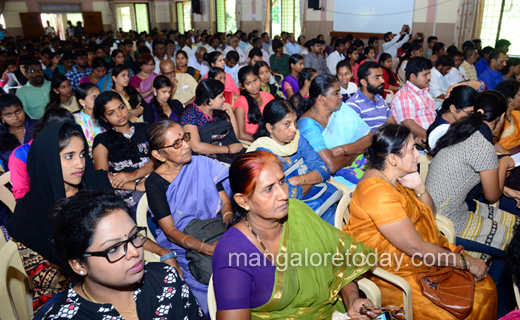 "A minister in Karnataka had spoken of 'worthless' literature in the past. We read such worthless literature from our school days till PhD days. Such literature gives space for creativity of upper class alone - there is no space for happiness, difficulties of the common man. There is no mention of the leaders from the lower strata of society, Dalits, tribals, backward classes, minorities and women," he said.

"Dalit literature came into existence when common man and the downtrodden started writing the trivial aspects of their life. Now, Dalit literature is thriving in all the languages. Literature should be always pro-people. If we fail to discuss humanitarian values in literature then such works are worthless and an insult to humanity," said Limbale.

Stating that media in the past had done injustice to Ambedkar, he said it portrayed Gandhi as a Dalit leader. It is true that Gandhi freed India from the clutches of British rule, but, it was Ambedkar who freed thousands of Dalits from the clutches of slavery. The movement started by Ambedkar is still alive, the writer said.

Former minister B A Moideen said society is moving backward and people still live with superstitious beliefs. There is a need to inculcate scientific temperament in people and awaken them.

The issue of displacement of tribals at Diddalli in Kodagu district echoed at Jananudi. Actor Chethan said, "Bowing to pressure from estate mafia, the state government cleared the huts of tribals. Now after series of agitations, it has promised of rehabilitation. If the demands are not fulfilled, then we will intensify our agitation."

Chethan said he would urge the government to provide land for all siteless individuals in the state. Mangalore University lecturer Dr Nagappa Gowda batted for uniform education policy. Writer Dr Vijayamma presided over the programme.

Write Comment
|

E-Mail
|
Facebook
|

Twitter
|

Print