KSRTC services curtailed as permits prevent operations from State Bank
Mangalore Today News Network
Mangaluru, Feb 16, 2015: Though the Regional Transport Authority (RTA), Mangaluru, has addressed the grouse of Karnataka State Road Transport Corporation (KSRTC) that it is not being issued permits to operate city buses in Mangaluru, the corporation is yet to commence services on majority of the routes permitted. it is strange that KSRTC, which has the confidence of the people is mistreated.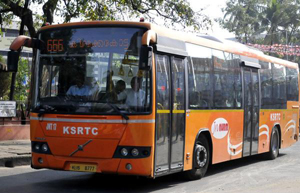 The corporation was set to operate city services to Tannirbhavi, Chelarpadavu, Amblamogaru, Mudipu, Adyarpadavu, Someshwara, Porkody, Ulaibettu, Airport and Polali at the recent meetings of the RTA. Applications for permits had been made a couple of years ago and they were considered only recently.

However, the hitch now is; the permits for city buses were issued to start the operations from KSRTC bus station at Bejai, and not from State Bank from where many other private city buses are permitted to operate.

Senior Divisional Controller of KSRTC's Mangaluru Division categorically stated, that operating city bus services from Bejai was not feasible. He said the corporation had sought permits from State Bank and the RTA did not accept it. He hoped that the RTA would address the KSRTC's concerns in the coming meetings. People feel whythis technical barrier, all buses should operate from State Bank as is being done.

Social activist G. Hanumanth Kamath said the RTA would always cite District Magistrate Notification issued in 1992, fixing cap on the number of buses that could enter the heart of the city — State Bank.

Even though the Deputy Commissioner (DC), who is also the District Magistrate and RTA Chairman, is empowered to modify this notification in favour of the KSRTC, it was not being done for questionable reasons, he alleged. At the same time, 62 private contract carriage buses operating to Puttur, Uppinangadi, etc., are allowed to enter State Bank, though it is illegal, he said.

Successive DCs are under political pressure not to alter the notifications and when the previous DC Ponnuraj attempted to relax the norms, he was shifted. Mangaluru has grown by leaps and bounds in these years, the population has increased to 5.5 lakh requiring increased transport facilities. Roads have also been widened substantially. Permits should be open to all, private as well as KSRTC and routes have to be rationalised. Buses should be permitted on routes sparsely served and not on the sufficiently catered-to routes, he argued.
The lack of space and system at the State Bank Terminus is frightful. The side of the road at the stops is not built up posing a grave risk of accidents as seen in many cases. The people representatives are blind it appears. While a few spots that are unimportant in the city are getting facelifts, it is beyond understanding why things at State Bank are so horrible. This spot is used by hundreds of buses, people of all kinds and specially students, sick, elderly and workers at all times of the day.

Write Comment
|

E-Mail
|
Facebook
|

Twitter
|

Print