Faulty democratic approach has swallowed people's rights
Mangalore Today News Network
Udupi, Mar 15, 2015: Speaking at the inaugural of a workshop on 'Rights and Development' organised by Dr G Shankar Government First Grade Women's College and Post Graduate Study Centre, MLA Pramodh Madhwaraj was irked by the anti-democratic approach of the legislators and bureaucrats who trampled the rights of the people who are paramount in the democratic setup. The MLA opined the notion of democracy would be realised only when people are assigned the power of authority to decide on the government mechanism. He added that the value of votes are equal, status of persons who cast the vote is immaterial.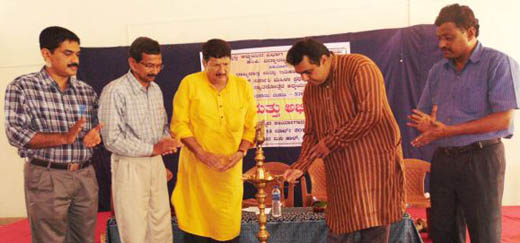 The MLA said, the bureaucratic setup follows biased attitude, treats the deprived and underprivileged with no value and welcomes the rich with open arms. Stressing need for effective system of delivery for the provisions of the beneficiary schemes, the MLA lamented that most of the funds released for poor are dispersed in the form of unaccounted funds, where large portions would be delivered to the middle men. He said although the government announces the budget of nearly Rs 1,20,000 crore, only Rs 70,000 crore worth benefits would reach the common man. The denial of rights to the common man is highly prevalent and continues in the set up. .

Delivering the keynote address, Mangalagangotri, Mangalore University Department of Political Science, Chairman Dr Rajaram Tholpady said deliberations, associational factor and participation are the three core concepts that lie beneath the sense of democracy. He said with the absence of discussion, active participation of the people and bonding, democracy is a failure. The term democracy is a complicated expression, which focuses on the ideals like rights and development. The analysis of the terms of rights and development is not possible unless and until, both the right and development are visualised through the better understating of the meaning of democracy.

He called for in depth study of democracy. He said methodical deliberations are held in India and globally for past 20 years over the notion of right wherein the concept of human rights is a segment of expression.


He added that the development discourse should take place as a part and parcel of the democratic set up. Asserting that the idea of democracy is ancient, the scholar said that however the renaissance of the term democracy had its own course. The common good factor is the core pedestal of democracy, he said.

Write Comment
|

E-Mail
|
Facebook
|

Twitter
|

Print