Extreme heat wave hits water availability at Pilikula Nisargadhama
Mangalore Today News Network
Mangaluru, May 05, 2016: The extreme heat wave conditions prevailing, has caused water supply to the popular tourist destination of Dr. Shivaram Karanth Pilikula Nisargadhama to be drastically reduced. If the scarcity continues for another week, then more than thousand birds and animals under captivity at the Pilikula biological park will marooned.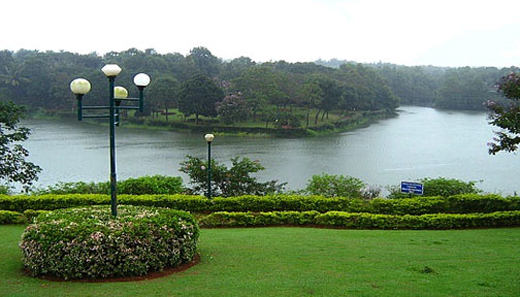 The nisargadhama usually lifted over two lakh litres of water each day from the Phalguni (popularly called Gurupura river). Now the inflow into the river has reduced drastically, the biological park was now able to pump only about 75,000 litres of water each day.

"Water is being used with utmost care not being able to pump water for the usual six hours a day, pumping water for only two hours is feasable," S.A. Prabhakara Sharma, Executive Director of the nisargadhama, stated.

Water lifted from the river was exclusively used for animals and birds for drinking, washing and cleaning their enclosures. "Though we have one lakh litre of water in stock for animals and birds it will not last long," said Director Sharma.

H.J. Bhandary, Director, Pilikula Biolgocial Park, said that water from the Phalguni was also being used for sprinkling to keep the animals cool. "If the weather is not co operating we will be in great trouble after 10 days," said director Bhandary.

Sharma said that the Nisargadhama used about 1.5 to 2 million litres of recycled water each day from the sewage treatment plant (STP) of the MCC, Mangaluru City Corporation located at Pachchanady.

It was used for watering gardens and not for any other purpose. An official at the Nisargadhama said usually it was getting 3 MLD water from the STP. Now its quantity has also come down.

A borewell in the Nisargadhama turned dry last month, Sharma said. The Executive Director said that water level at Pilikula boating lake was also rapidly reducing. "We note water is just evaporating due to the high temperature. In the 20-ft. deep lake, the water level has gone down by about 5 ft. in the last 10 days," he said.

The lake water was also being used for watering the garden.

Write Comment
|

E-Mail
|
Facebook
|

Twitter
|

Print