Thumbay Hospitals in Ajman and Fujairah honored by UAE Ministry of Health for 'Excellence in Quality
Mangalore Today News Network
Ajman Mar 29, 2018: Thumbay Hospitals in Ajman and Fujairah, part of the network of academic hospitals under Thumbay Group's Healthcare Division, were honored by His Excellency Dr. Amin Al Amiri, Asst. Undersecretary for Public Health Policy and License Sector in the UAE Ministry of Health, for their efforts in pursuing and attaining international quality accreditation in patient care.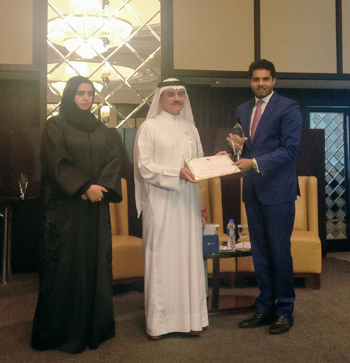 The private ceremony held at Roda Al Bustan Hotel, Dubai, was led by H.E Dr Amin Al Amiri and a delegation of MOH officials from the health policy and licensing sector, with the audience compromising of top hospitals, medical centers and specialty clinics of the Northern Emirates.

Thumbay Hospital Ajman and Fujairah were commended among top hospitals from the private sector licensed under the MOH that were continually working to raise the standards of quality and was therefore selected to be honored at the prestigious event.

The awards were received by Mr. Akbar MoideenThumbay, Vice President – Healthcare Division and Board Member of Thumbay Group. Thumbay Group was the only healthcare group that received two awards at the ceremony, highlighting their efforts in providing world-class healthcare.

"The award highlights the remarkable, compassionate care provided by our hospitals. We are proud to deliver world-class care at affordable costs through Thumbay Hospitals, the only private academic hospital network in the region," said Dr. ThumbayMoideen, Founder President of Thumbay Group.

"Serving patients from over 175 countries through Thumbay Hospitals, we are dedicated more than ever to maintain high standards of quality and patient safety in our hospitals," said Mr. Akbar MoideenThumbay. "I take this opportunity to congratulate Thumbay Hospitals in Ajman and Fujairah, for their continued dedication to quality improvement," he added.

Speaking at the event, H.E. Dr. Amin Al Amiri highlighted the importance of constantly pursuing high quality international accreditation, ensuring that the facilities promoted highest safety standardsand best patient care. He also announced soon-to-launch initiatives such as star rating system for individual hospital departments and new practices for medical negligence reporting.


About Thumbay Group's Healthcare Division

The Thumbay network of academic hospitals is now the largest network of private academic hospitals in the Middle East, treating patients from around 175 nationalities. It is also one of the biggest JCI-accredited private academic hospital networks in the region. Thumbay Group's healthcare division also operates a chain of family clinics (Thumbay Clinic) and multispecialty day care hospitals (Thumbay Hospital Day Care) in the UAE as well as diagnostic labs (Thumbay Labs) and pharmacies (Thumbay Pharmacy) in the UAE and India. The hospitals and clinics are presently located at Dubai, Ajman, Sharjah, Fujairah, Ras Al Khaimah and Umm Al Quwain in the U.A.E. and in Hyderabad—India. Thumbay Medical Tourism, which promotes Thumbay Group's ultra-modern healthcare services to international patients, is tied-up with 87 countries through representative offices. According to Thumbay Group's strategic plans, the Thumbay academic hospital network will have a total of 1000 beds in the UAE, 1500 beds in India and 750 beds elsewhere in the Gulf and Africa by 2022.