Indian without passport flies home after 16 years in UAE
Mangalore Today News Network
Dubai, Sep 03, 2020: An Indian national, who has been living in the UAE without proper documentation for 16 years, has finally returned home to his family in the Indian state of Telangana on Tuesday, according to the consulate officials and social workers who assisted him.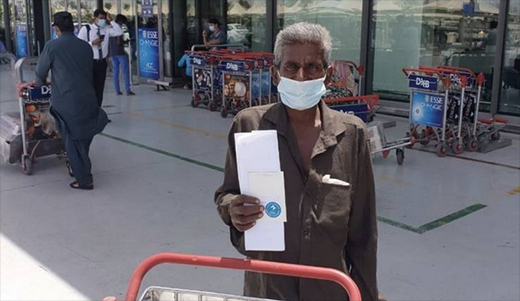 Neela Yellaiah, a blue-collar worker who arrived in the UAE in 2004, was found by a volunteer at Jain Service Mission among the people who were seeking repatriation amid the Covid-19 pandemic.

He did not have a passport or any other documentation - so the Indian Consulate had to comb through several thousand pages in the passports database to search for his identity, said Neeraj Agarwal, Consul for Press, information, and culture at the mission.

"The only document he had was an election ID from 2002. There was nothing on him in our online database. Finally, based on the information given to us, we contacted the RPO in Hyderabad for his details," said Agarwal.

How was Neela found?

Rupesh Mehta, a UAE resident for nearly 42 years, was visiting a workers' accommodation in the Sharjah industrial area in June when he found Yellaiah.

"When I got to the industrial area, I met some men who asked me to help Neela (Yellaiah) even before they received help," the expat said.

At that time, the Telangana native was found 'destitute' and unable to speak coherently, Mehta said. He was doing odd jobs to make ends meet,

Though Mehta began working on the case late June, Mehta was able to repatriate him only by August.

"He (Yellaiah) had no records from any of the authorities here, be it the police or immigration. Without a travel document, sending him back had become an issue. He was surely a special case."

It had also been difficult to trace how exactly was he able to come to the UAE, so Mehta had to ask help from some local contacts in Hyderabad.

"He was able to give me his wife's number. However, she could only speak in Telugu. It was also difficult for Neela to comprehend what I was saying."

Emergency travel papers helped him go home

After much effort and months of waiting, the consulate was able to verify his name and status, thanks to the efforts of the Hyderabad RPO, said Agarwal.

"We were able to issue an emergency travel document (EC) for him." The mission also liaised with local immigration authorities and had his fines waived.

"We cannot ascertain the exact fine amount as he has been living here without documentation for over 16 years. It was definitely at several hundreds of thousands," added Agarwal.

Yellaiah went back home to a grown-up daughter and a grandchild, whom he has never seen before. "When he left for the UAE, his daughter was still a toddler," said Agarwal.
Courtesy:Khaleej Times