Arnab Goswami's "Shameless" Comment Was Not for Kerala's People
www.mangaloretoday.com
August 29th 2018: On 25 August, Republic TV hosted its routine late night program 'The Debate' where Arnab Goswami invited panelists to discuss the Rs 700 crore relief aid that was allegedly promised to the Kerala government by the United Arab Emirates (UAE). Chief Minister Pinarayi Vijayan's Office tweeted on 21 August about the aid, which was later denied by the UAE. The CM, however, stood by his claim and all eyes have now turned to the UAE based Malayali Billionairwho was the only source of the information, as clarified by Vijayan. Goswami's show titled '#FloodAidLie' attempted to discuss the purported fake news. However, soon after it was aired, the journalist received a lot of backlash on social media as many claimed that he called the people of Kerala "shameless".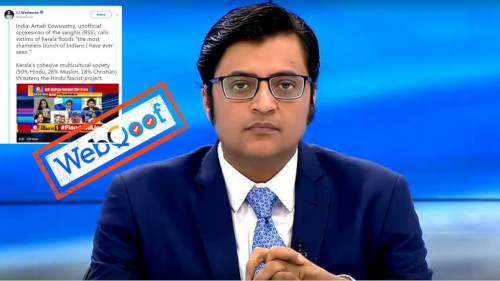 Both individual users and social media pages posted a 30-second clip of Goswami's show where he can be heard saying: "This group is shameless. It's the most shameless bunch of Indians I have ever seen. They have gone around spreading the lie religiously. I don't know what they get for it, whether they get paid for it. Do they get paid money for abusing their own country? Are they part of a group? Who are they funded by? The point is, it's a conspiracy to malign India."
The video shared by the Facebook page, Beef Janta Party, has been shared over 2,800 times.
The clip was also widely spread on Twitter. It has been retweeted over 500 times from CJ Werleman's timeline.
Many others on social media have also expressed their anger at Goswami's alleged statements.