Shoplifting Seagull boldly walks into store and steals a packet of chips, Watch vral video
Mangalore Today News Network / News18
March 23, 2021: A hilarious moment was caught on camera in Aberdeen when a sneaky seagull walked into a co-op store to steal a bag of crisps. The shoplifting Scot seagull's video is being shared on social media widely for its cheekiness.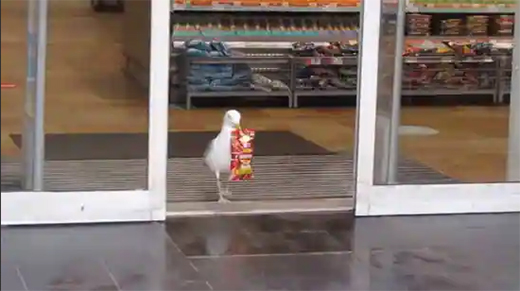 In the almost 1minute clip, the crafty bird can be seen standing outside the store waiting for a human to trigger the automatic door open. As one man exits the door, the cunning bird spots its opportunity and waddles inside the store while walking along the first aisle of food. The seagull walked past onion, cheese, salt and vinegar before settling on a ready salted Walker's crisps. It checks out its options before it picked up the crisps in its beaks and scanning the store, it made a run for the door. The bird walked out through the automatic door, carrying the salty treat out of the store.

But instead of fleeing away with its illicit haul, the bird couldn't wait to taste the treat.So, it drops the packet on the pavement trying to open the packet with its beak as it furiously pecked at the foil to enjoy the snacks inside.

The clip shared on Facebook has left the social media users tickled, appreciating the bird's taste, while it also attracted number of interesting reactions. The incredible theft was captured by a local man named Neil Traynor who shared it online with a caption,"Gulls don't care for the concept of ownership or trade."

One person jokingly called the bird 'stupid gull' and suggested that it was supposed to leave the scene of crime. The person adds that they loved "he had a wee peruse of the flavours before going for ready salted."

Another one called the gull 'bold as brass.'

Some users pointed out its courage for eating the pack directly outside the store. "Love that he rubs it in by eating it directly outside the shop," wrote one, while another said, "Staying there and eating it in front of the shop is a total power move."

In another hilarious comment, a person comments, "Soon the birds will be swiping our credit cards and buying stuff online."

Write Comment
|

E-Mail
|
Facebook
|

Twitter
|

Print