Worst-dressed celebs this week: While Deepika Padukone's outfit made us cringe...
Mangalore Today News Network
Oct 24, 2017: While looking impeccable is pretty much the job description in tinsel town, there are some celebs who fail to grasp the vibe of the events that they grace. With the growing brigade of fashion stylists at the helm of affairs, these celebs play muses to designers, flaunting creations that either impress or evoke a flurry of memes.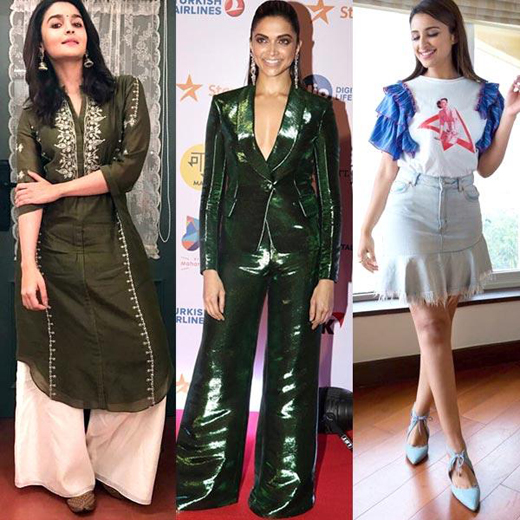 Trust us when we say, making a list of worst dressed celebs is never really an uphill task for it's easy to spot them than the best dressed ones. And the previous week being the onset of the festive season, we had a lot of opportunities where our celebs stepped out in their not-so-gorgeous attires and made us either cringe or yawn. And even if we decide to ignore all our B-town parties and gala evenings, there were still many events that invoked the wrath of the fashion police. Featuring in the worst-dressed list this week are Deepika Padukone, Parineeti Chopra, Alia Bhatt, Kriti Sanon and Shilpa Shetty. Let's take a quick recap in what went wrong in their fashion styling…


Deepika Padukone thought she had to play the green lantern for Diwali day


No, seriously, what was Deepika Padukone even thinking when she stepped out in such a hideous attire? There are times when some of the outfits make us shut our eyes but Deepika definitely raised that bar with her latest outing. Wearing a shiny green pant suit from the house of Monisha Jaising with silver earrings from Yves Saint Laurent, DP made us wish she hadn't stepped out of the house. Should she fire her stylist or should she fire her stylist?

Can Alia Bhatt make it more boring?


Now, this outfit of Alia Bhatt isn't as worse as Deepika Padukone's but it's a snooze fest definitely. The green and cream traditional attire from AM PM fashion is just too blah for us. Alia failed miserably to evoke a wow from us and we recommend she sticks to her usual sense of style and not experiment with anything so boring.

Parineeti Chopra has decided to raise the bar of being worst dressed every single time


Wearing a ruffled sleeve top by Madison and a denim skirt from Topshop, Parineeti Chopra wasn't really successful in getting a thumbs up from fashion police. Especially when an actress is out for her movie promotions, we expect her to put the best foot forward but guess Pari is in no mood to please. Her fashion styling for Golmaal promotions has been consistently worst with only a few good outings occasionally. We recommend her to start taking fashion seriously.

Shilpa Shetty's saree looked more like a spy costume


We hate when someone tries to play with something as simple and graceful as a saree. The camouflage print saree with a leather blouse and belt under the bust line didn't really justify her svelte figure. Now, when you have someone as hot as Shilpa Shetty, you can opt for any basic outfit and make it look ravishing enough. But not this creation from Shantanu & Nikhil. The attire was too dull and even Shilpa couldn't make it look happening enough.
Courtesy: Yahoo.com