Where love meets power: Meet India's super couples
Mangalore Today News Network
Virat Kohli and Anushka Sharma
Reports of Virat Kohli's and Anushka Sharma's wedding started to surface after the two took breaks from their respective projects and were spotted at the airport, with their families, huge suitcases and a pandit in tow. Photos of their fairytale wedding broke the internet and the world has still not stopped gushing over them. The current hottest power couple is reportedly worth Rs 600 crores, with their cricket fees, film deals, endorsement deals, et al, giving some of the richest people a run for their money.

While Anushka is a much-sought-after actress who has her own production house called Clean Slate Films and an apparel label called Nush, Virat, who has many wins under his cap as the captain of the India cricket team, also runs a gym chain called Chisel and is the co-owner of a Dubai based tennis team, UAE Royals. Anushka charges around Rs 10 crores per film, and Rs 4 crores per endorsement. Virat earned Rs 5.51 crores from 46 matches in 2017, and with the BCCI set to double cricketer salary, his salary is set to increase to Rs 10 crores per year. Add to that IPL earning, endorsement deals, etc, Virat is undoubtedly one of the richest cricketers around.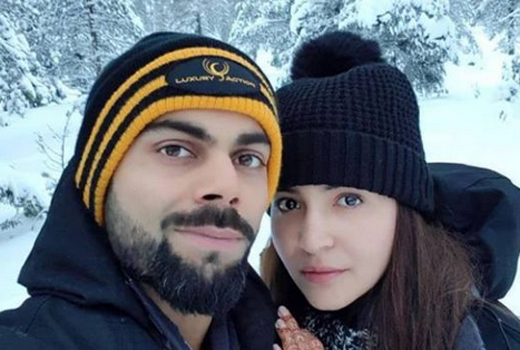 Mukesh and Nita Ambani:

The story goes that after seeing Nita Ambani (nee Dalal) perform a Bharatnatyam recital during a college function, Dhirubhai Ambani called her up asking if she would be interested in marrying his son, Mukesh. Nita, thinking it was a prank, retorted that if he was Dhirubhai Ambani, then she was Elizabeth Taylor. It was only after her father spoke to Ambani senior and realised that it was actually him that she apologised. The rest, as they say, is history.

Currently, India's richest couple, Mukesh and Nita Ambani, are a powerhouse of talent, influence and ambition. While Mukesh is the chairman, managing director and largest shareholder of Reliance Industries, Nita is the founder-chairperson of the prestigious Dhirubhai Ambani International School and the co-owner of the IPL team, Mumbai Indians. The family recently beat the Lees of the Samsung empire to become the richest in Asia, with a net worth of USD 44.8 billion.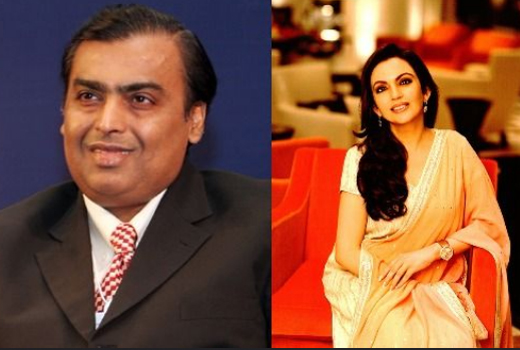 Sudha Murthy and NR Narayan Murthy:

When Sudha Murthy's father asked Narayana Murthy what his ambition was, he responded that he wanted to join a political party and build an orphanage. Sudha's father rejected his future son-in-law immediately. But, cupid had other plans. The two got married, and with a loan of Rs 10,000 from Sudha and a timeline of three years, NR Narayan Murthy went on to co-found Infosys, one of the biggest software companies in the world.
A computer scientist and engineer by education and an author, humanitarian and the chairperson of the Infosys Foundation, Sudha is known for her work in the sphere of education and public healthcare. Today, the soft-spoken and simple couple from Bengaluru are among the most powerful and influential couples in the country, with a net worth of USD 1.92 billion. However, as opposed to many other billionaire couples, the duo is never seen flaunting their money and the only things they splurge on are books.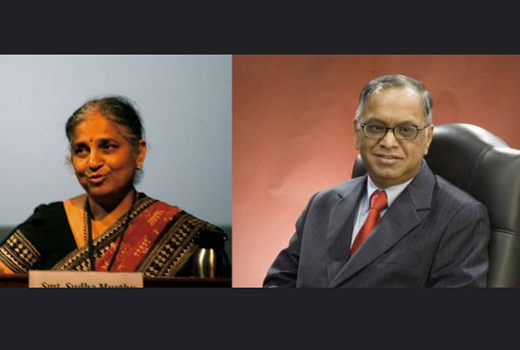 Amitabh Bachchan and Jaya Bachchan:

Amitabh Bachchan is one of the greatest actors the country, and world, has ever seen, and Jaya Bachchan is one of the finest actresses Bollywood ever produced and a politician with the Samajwadi Party. Together, they are India's evergreen couple. Their four and a half decade long marriage has stood the test of time, survived great financial crises, problems in their relationship and political turmoil to remain as rock solid as ever.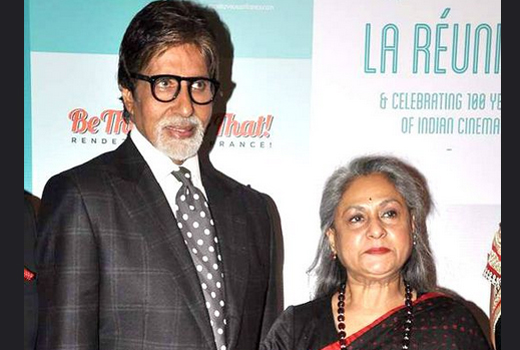 Gauri Khan and Shah Rukh Khan:

She was his support when he started off as a nobody in the big bad world of Bollywood. Gauri Khan has continued to stand by him through his career highs and lows, and through numerous rumours of alleged linkups. A marriage that spans more than 2.5 decades and three children later, the two remain one rock-solid power couple. While Shah Rukh Khan rules over Bollywood, charging around Rs 40-50 crores per film, and around Rs 3.5 crore per endorsement deal, apart stage shows, guest appearances and TV shows, Gauri Khan is the co-owner of their production house and distribution company, Red Chillies, and is a celebrity interior designer.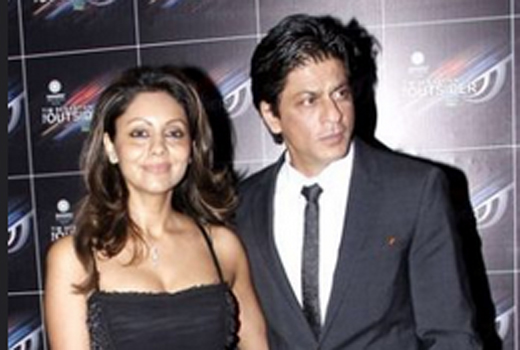 Saif Ali Khan and Kareena Kapoor Khan:

The royal couple of Bollywood, Saif Ali Khan and Kareena Kapoor were already-established stars before they fell in love and got married. From their royal wedding to Kareena's pregnancy and their son Taimur Ali Khan's journey through his first year of life, photographs of Bollywood's most fashionable couple go viral the moment they are uploaded. Kareena Kapoor Khan, once Bollywood's highest-paid actress, takes home around Rs 8-9 crores per film, apart from having a host of endorsement deals in her kitty, for which she reportedly charge Rs 3-4 crores per endorsement. Saif Ali Khan may not match up to his wife in terms of film deals and endorsements, however, he has received a Padma Shri and has won many awards. The Nawab of Pataudi is also the owner of the Pataudi Palace, their ancestral property which is valued at Rs 800, which will be inherited by son Taimur.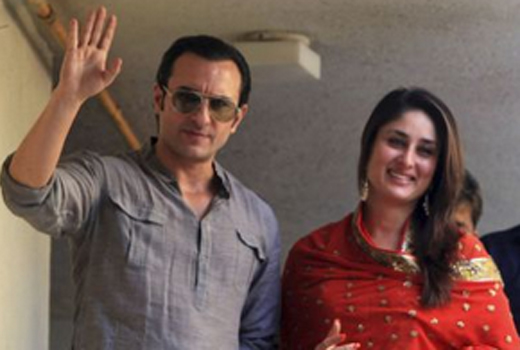 Dr Swati Piramal and Ajay Piramal:

While businessman Ajay Piramal is the head of the Piramal Group, his wife, Dr Swati Piramal, is a leading scientist and Vice Chairman of Piramal Enterprises and director of Piramal Foundation, the group's CSR wing. Together, they have nourished the Piramal Group, a multi-million conglomerate that has interests in healthcare, life sciences, drug discovery, financial services, glass packaging and real estate. In 2017, the Forbes estimated Ajay Piramal's net worth to be US$ 7.5 billion, making him one of India's Top 50 richest people.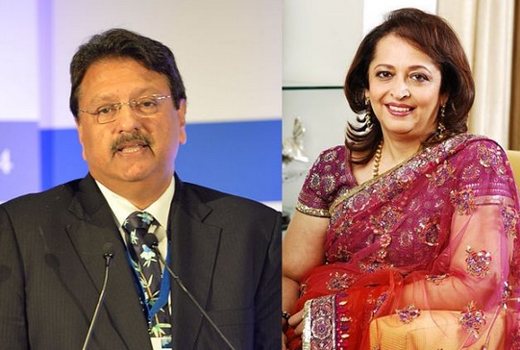 Dipika Pallikal and Dinesh Karthik:

The sporty couple, cricketer Dinesh Karthik and squash player Dipika Pallikal's marriage in August 2015 made waves on social media. When a men's website labeled her husband unattractive, feisty Dipika lashed out against it, tweeting 'Try publishing things that make sense…' The post was later taken down with an apology. While Dipika is one of India's best squash players, and the first Indian to break into the Top 10 in the PSA Women's Rankings, Dinesh Karthik is a well-known cricketer. Together they make one sporty, power couple.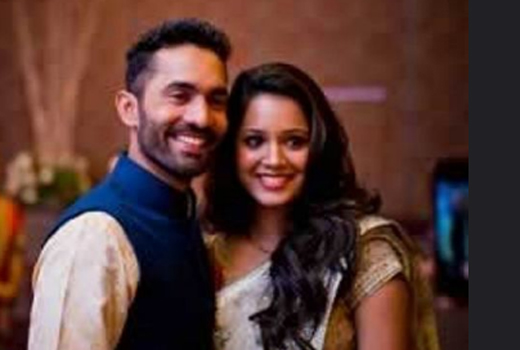 Kumar Mangalam Birla and Neerja Birla:

The scion of the Birla family, Kumar Mangalam Birla took over the reins of his family business at the age of 28, after the tragic death of his father Aditya Birla. His pillar of support through the struggles that followed to build his business empire, has been his wife Neerja Birla. Neerja also heads mPower and mPower Foundation, a Mumbai based mental healthcare initiative, and Aditya Birla World Academy and Aditya Birla Integrated School. The Aditya Birla group has a revenue of USD 41 million. They are one of India's most powerful business couples.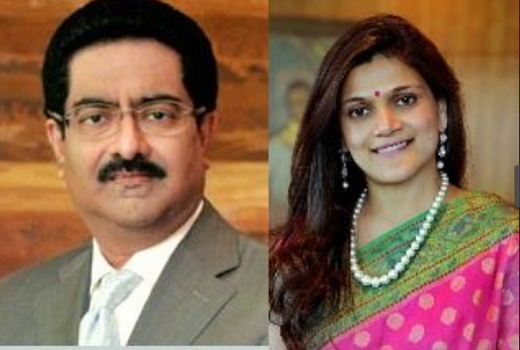 Sajjan Jindal and Sangita Jindal:

While Sajjan Jindal is the Chairman and Managing Director of JSW Steel, one of India's biggest conglomerates, his wife Sangita heads the JSW Foundation, which drives the organisation's social development projects. An Eisenhower fellow, Sangita is also an advisor at Tedx Gateway and a trustee for Make-A-Wish Foundation. Together the two make a formidable combination of ambition and philanthropy.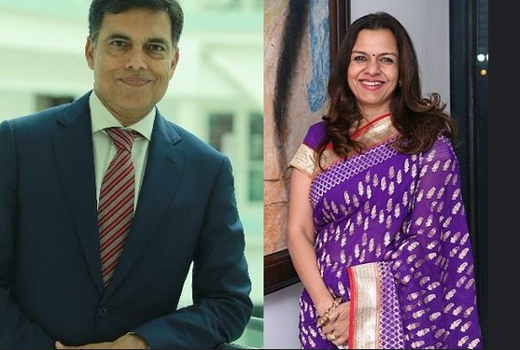 From being the most stylish and talked about people to being strong influencers both online and in the physical world, these power couples are often spoken together in one breath. They ooze power, talent, charm, confidence, money and have supported each other through their thick and thin. We take a look at 10 of India's most powerful couples in business, sports and the film fraternity.
Courtesy: Yahoo.com