Twinkle Khanna mimics PM Narendra Modi, gets massively trolled
Mangalore Today News Network
May 22, 2019: Twinkle Khanna's tweet on PM Narendra Modi: Twinkle Khanna is one of her kind! Daughter of superstar Rajesh Khanna and the versatile Dimple Kapadia is best known for her strong beliefs. Khiladi Kumar's wife is again in the news as Twinkle Khanna shared an image on her social media handle of meditating. Mrs Funnybones writer also wrote a somewhat eccentric short description. Just a few days ago, while visiting Kedarnath Prime Minister Narendra Modi had also decided to contemplate in isolation inside a cave.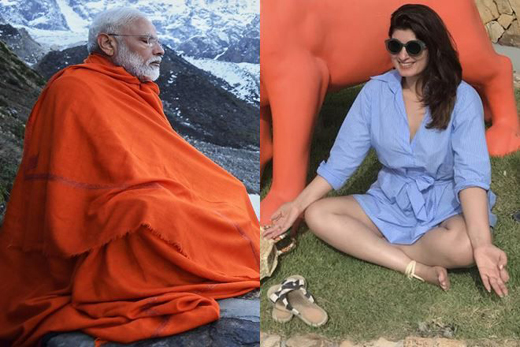 In the image shared by Twinkle, she is seen in a meditative posture in her backyard and beaming for the camera. However, through her caption, she took an indirect dig at Prime Minister Modi. Twinkle said that, after looking at a lot of spiritual images on her timeline, now she has also planned to start her own series of workshops. She also wrote that people please sign up, as after watching so many spiritual images in the last few days- she is now starting a series of workshops Meditation Photography-Poses and Angles . She also has a feeling that after wedding photography, Meditation Photography is going to be the next big thing #AJokeADayMayKeepJillSane
Here's a look to the Twinkle Khanna s tweet:
However, this didn t go well with Twitterati! Netizens believed it to be a 'DIG AT PM MODI" and they lashed out at the writer. Here are some expert opinionated tweets below.

Twinkle Khanna's husband, Akshay Kumar had earlier taken a non-political interview of Prime Minister Modi. While speaking to Akshay Kumar, Narendra Modi, said that he follows Akshay as well as Twinkle Khanna on Twitter. Sometimes he feels that she pours all the anger on him on Twitter (laughs). It must take all the stress away from Akshay's family life. Somehow he has been able to help Akshay.