Shilpa Shetty, Raj Kundra slap Sherlyn Chopra with Rs 50 crore defamation case
Mangalore Today News Network
October 19, 2021: Sherlyn Chopra had filed a sexual harassment case against Raj Kundra and Shilpa Shetty. She had filed a fresh complaint, a week ago, with the Mumbai Police, and accused the couple of sexually and mentally harassing her. She also accused them of fraud. Now, Shilpa Shetty and Raj Kundra have taken action against the actress.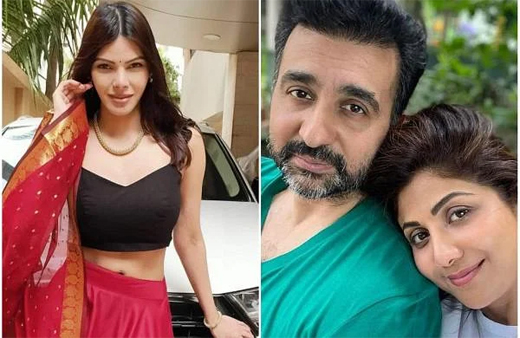 Shilpa Shetty and Raj Kundra have sent a defamation notice to actor Sherlyn Chopra seeking an apology and Rs 50 crore in damages for "lewd, below the belt" remarks against them on public platforms. The notice was sent by lawyer Prashant P Patil who represents the couple. Chopra had recently accused Kundra of sexual harassment, criminal intimidation and cheating. The actress had earlier given a statement against Kundra after he was arrested in the Mumbai porn racket case.

Shilpa Shetty and Raj Kundra's lawyers have slapped a defamation suit on Sherlyn Chopra worth Rs 50 crore. Their official statement reads, "The entire allegations made by Ms Sherlyn Chopra against Mr Raj Kundra and Ms Shilpa Shetty Kundra, are concocted, false, fake, frivolous, baseless, without any evidence, even to Ms Sherlyn Chopra's knowledge, and have been made with an ulterior motive to defame and extort money."

The notice says that Raj Kundra is the founder of the JL Stream App which is an entertaining app where fans can meet, chat and view exclusive content from their favourite influencers. Shilpa Shetty herself has nothing to do with this App but the notice alleges that Chopra has been dragging Shilpa's name just to get some publicity. Chopra was one of the 300 artistes associated with JL Stream for a year until July 2021.

The legal suit also mentions that Sherlyn Chopra had informed Shilpa Shetty in April this year that her complaint is fake and it was her lawyer who suggested she initiate a criminal complaint against Raj Kundra. The notice to Sherlyn mentions that she called Shilpa and said that she is ashamed of herself for filing a criminal complaint against Raj Kundra and she would withdraw the complaint unconditionally. They have accused Sherlyn of demanding Rs 48,00,000 with an intention to extort money through her lawyer on October 4, 2021.

The legal notice states that Raj Kundra and Shilpa Shetty reserve their right to initiate criminal proceedings under the appropriate laws and also file a complaint before the Cybercrime Department. It adds, that Sherlyn Chopra must compensate both of them by paying them Rs 50 crore jointly, by way of compensatory damages for loss of reputation, loss of business and for bodily and mental agony caused within a week of the receipt of the notice and also to publish a public apology in leading newspapers and digital media platforms to the satisfaction of the couple. Failing this, Kundra and Shetty shall institute appropriate civil and criminal proceedings against Chopra.

The 16-page notice shot off by Patil asks Chopra to refrain from making any unfounded, false fabricated allegations and defamatory remarks through press conferences, social media and digital media sites. Chopra will also have to bear the cost of the notice, which is Rs 1,00,000. The legal team of the couple said that in case they do not receive a reply from Chopra within seven days, they would initiate legal proceedings against her.

Earlier, Sherlyn Chopra, whose statement had been recorded in the porn racket case against businessman Raj Kundra, had said that he and his firm's creative director had repeatedly followed her to work for the mobile application named 'HotShots'. A detailed statement of Sherlyn was a part of the charge sheet that was filed by Mumbai Crime Branch officials in the Mumbai porn racket case.
Courtesy:India Today