Nude selfies: The latest trend sweeping the millennials - but there's a cost
Mangalore Today News Network
Mar 07, 2016: The global selfie trend is being overtaken by its more racy and dangerous cousin – the naked selfie.

Despite 27 selfie-related deaths being recorded in 2015, it seems that fully-clothed pictures just simply aren't enough in 2016, with birthday suits being the order of the day.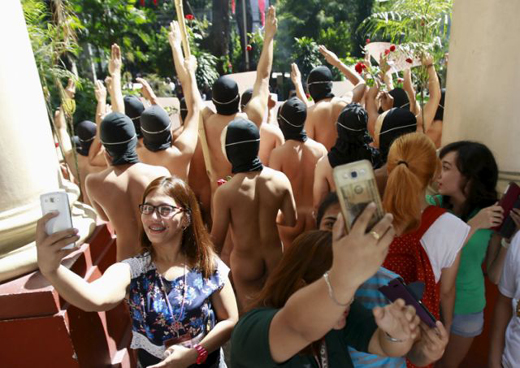 The craze seems to be particularly prevalent amongst millennials, who take nude snaps on the world's most iconic – and even sacred – sites as part of their travels. On 4 March, 23-year-old British tourist Adam Burton was reported to have been arrested by Peruvian authorities (along with his 28-year-old French companion) after casting off his clothes to take a selfie at Machu Piccu, the 15th century Inca citadel and Unesco World Heritage site.
So why are millennials taking such risks to take a naked selfie?

"There are a number of behaviours that are driving this forward," Mark Brill, senior lecturer in future media at Birmingham City University told IBTimes UK. "One is FOMO (the fear of missing out). The thing about social media is that it creates a sense that you need to be involved with it and that if you're not, you're somehow missing out. So a lot of people do stuff on social media for the social recognition, the social value."

Youngsters are not just peculiar people itching to get naked at any given opportunity, explained Brill. "I don't think that Millennials have this desperate drive to take off their clothes and take pictures, I think what's happening is they're underestimating the implications of what they're doing" given that what happens on social media can quickly get out of hand.

Last year Swiss artist Milo Moiré was arrested by police for taking naked selfies with tourists as part of her art performance. Speaking to IBTimes UK, Moiré said: "Social media became a new kind of language, especially for millennials. They speak mainly to each other via digital avatars, for millennials it became a first language because they grow up with.

"I think naked selfies are a mix of narcissism, attention seeking and an emotional thrill. Porn pictures are nothing special anymore, however to show the own naked body is perceived as something forbidden. Social media platforms like Facebook document this view with censorships of nipples. Young people will always get the urge to cross borders, naked selfies is a quick, indirect way to explore," she added.

Are there any dangers involved or is it harmless?

There are risks associated with taking naked selfies, including their appearance on abusive porn sites, the Swiss artist and model noted. "A nude avatar can change your reputation in reality negatively. For me a naked human body is not a crime, it's nature, but mostly young people are dangerously susceptible to mobbing," Moiré said.

Naked picture-related tourism has also made its way to Cambodia, with tourists picturing their private parts at the sacred Angkor complex, and while the trend may seem good-natured, it can often be deeply offensive to the local population.

Last year US sisters Lindsey Kate Adams and Leslie Jan Adams were slapped with a $250 (£175) fine after they took partially nude photos at the Preah Khan temple at the Angkor complex. After being charged with trafficking pornography and exposing sexual body parts, the pair were also deported and banned from entering the country for four years, underlining the serious nature of the offence in Cambodia.