Katrina Kaif Shares Her Favorite Delicacies From Mumbai And Delhi!
Mangalore Today News Network
June 06 2018: Recently, Katrina Kaif shared some really quirky and random secrets of her likes and dislikes, especially in food. "Food gets me going. Nothing can cheer me up better than a good meal," said the ever secretive and beautifully mysterious Katrina Kaif in her statement.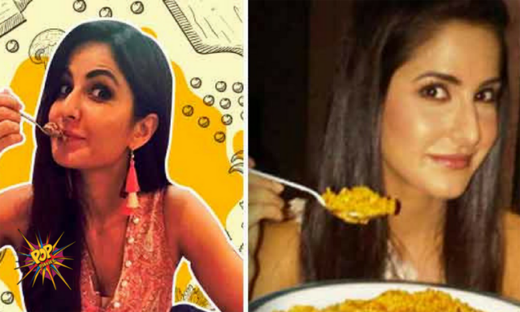 The Zero actress shared her foodie secrets as part of The Times of India's #FlirtWithYourCity campaign for its supplements across Delhi, Mumbai, Chennai, and Bengaluru.

Well, when it comes to her home city Mumbai and Delhi, Katrina Kaif loves the street food.

"I love street food and any street place that offers 'paya' with 'kadak pav' will instantly be a favorite for me. I can eat my heart out with 'paya' and pav. I also love seafood, with prawns and crabs being my comfort food. Mumbai is a coastal city and has some of the best seafood restaurants, especially around Mahim and Juhu," she said.

While talking about Delhi and her favorite eateries from the capital city, she said, "The street food here is something to die for, I think Delhi gives you a lot of options and variety to choose from. From chaat in Bengali Market to kebab and paranthe in Chandni Chowk, I would want to try everything. Delhi also has some good fine-dining options."

Meanwhile, keeping up with her food habits, Katrina Kaif never relaxed on her fitness regime. "Mumbai has so many sea-facing promenades… Sometimes I wish I wasn't confined to a gym. Instead, had I been given a choice, I would have loved to run at Worli seaface or Bandstand or even Marine Drive. Joggers Park is close to where I live and looks like an amazing place to work out too. There are a bunch of morning workout routines that take place over there that I'd love to take part in. Cycling has also become a big craze in the city and I'd love to be part of these communities. It's one of the best ways of exploring any city," said the Thugs Of Hindostan actor.

While in Delhi, Katrina shares her favorite places to regularly workout that is mostly the huge, green spaces.

"I would want to explore places like Lodhi Garden and go for a run. The stretch near India Gate and the entire Lutyens' Delhi has a lot of greenery. I think, going for morning walks would be a great experience there. I know that some people in NCR also have these cycling clubs and I would want to accompany them and cycle early morning and explore Delhi."

Well, we definitely love her mantra in happiness and living to the fullest. Eat the best and gym the rest!
Courtesy: Yahoo.com